Culture
25 Reasons 'Clueless' Will Always Be a Betty In Our Pop Culture-d Lives
|
You're about to be totally buggin.'
Clueless is now a quarter-of-a-century old. How in the world is this possible when it still gives us all the fancy Beverly Hills feels whenever we watch it? Yes, it's true. So. To commemorate this momentous occasion, we've come up with 25 Cliff's Notes of our own as to why this classic 90's film will always be a pure Betty in our pop culture-d lives. Grab a Snickers and check it out.
---
1. Welcome to Hollywood, Ms. Alicia Silverstone….
While she starred in the low budget thriller 'The Crush,' and a trio of Aerosmith videos, it was Clueless that made Alicia Silverstone a force to be reckoned with in Hollywood.
Eh, sort of. Thanks to a string of disappointments including Excess Baggage, Blast from the Past and Batman & Robin, Silverstone's star faded as quickly as it starting rising in the mid-'90s.
She may be one of the most underrated and under appreciated actresses in Hollywood—although you can currently catch her as Kristy's Mom on Netflix's The Babysitter's Club, we'll always adore her as leading lady Cher Horowitz.
We truly don't need her as anybody else.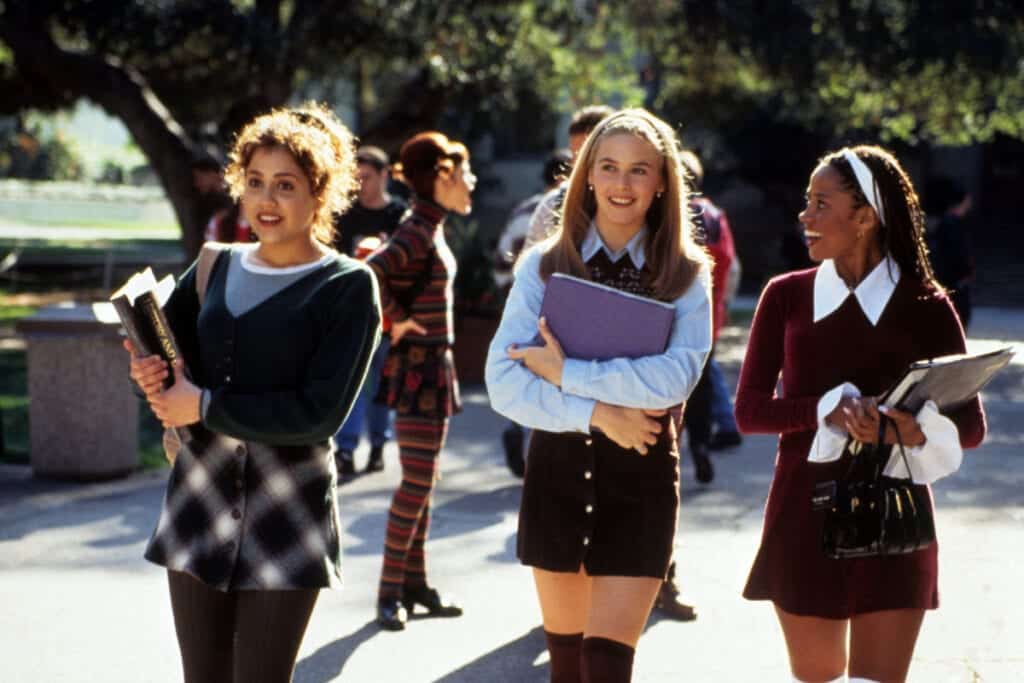 2. The epic soundtrack….
We could go on and on about how insanely delicious and groovy the film's accompanying soundtrack is, but we'll just let these jams speak for themselves as you keep on scrollin'.
First up… a little Mighty Mighty Bosstones… yes, please.
3. Amy Heckerling…the directing queen of high school comedies…
Although Heckerling crafted great buzz for herself in the '80s directing classic comedies, Look Who's Talking, National Lampoon's European Vacation, and most notably, Fast Times at Ridgemont High, it was Clueless that truly put her on the pop culture map and made her a household name.
In a special feature piece entitled Creative Writing, Heckerling shared the origins of how Clueless came to be….
"I went to 20th Century Fox and they said "We want you to do something about teenagers." And I thought "I'm so tired about doing stuff about teenagers." But they said, "We want you to do something about the 'in' crowd." I thought "I'll do it if I can make fun of them." So, we developed this script. It was a pilot for a TV show. And it was about this girl that was completely happy, no matter what happened. And I was really getting into that kind of character. But nothing happened with it. They passed on it, they didn't get it. And a number of things were sort of falling through. I was just getting very frustrated. So I switched agents and when I had my new agent, they said: "What have you been working on?" So I showed Ken Stovitz, one of the agents there, this pilot. And he said, "This is too good for TV. You should make this into a feature."
And as we all know, the rest is pure pop culture history.
4. Stacey Dash …
Um, no further statements except that we'll always, always cherish her as Dionne, especially during the freeway scene.
Always.
5. Clueless Has Jane Austen ties….
Fun fact: Clueless is loosely based on Jane Austen's 1815 novel, Emma, which is the story of a young girl who decides to play matchmaker extraordinaire while having her own bad luck with the subject.
On why Heckling decided to base the film on the book, she also spilled in the Creative Writing feature,
"I started to think, "What's the larger context for that kind of a 'nothing can go wrong' 'always looks through rose colored glasses' kind of girl?" And I remembered Emma, which I'd read in college. So, I took it out and reread it, and I said: "Unconsciously, I've been writing an Emma-like character." Because I've always loved it and part of it had sort of stored it away in my brain… So I really related to her and got into it. And the plot was so brilliantly laid out in Emma. So I tried to take all the things that were in this sort of pretty 1800s world and see what would that be like if it was in Beverly Hills."
And it still works beautifully.
6. Did we mention its epic soundtrack?
A little Luscious Jackson is always a fall down the stairs good time.
7. Hello, Clueless gentlemen….
As much as the film was a launching pad for its leading ladies, it also paved the Hollywood way for several of its leading men.
Skateboarder dude Travis—aka Breckin Meyer — would go on to star in Can't Hardly Wait, TNT's Franklin & Bash, and most notably, Comedy Central's smash, Robot Chicken. Dionne's man, Murray—aka Donald Faison—would make a name for himself on the former long-running comedy, Scrubs. Then of course there's Josh—aka … Ant Man … aka … Mr. Paul Rudd — who still holds his reign as one of Tinsel Town's leading men.
We don't know where we would be without any of them…be still our Clueless hearts.
8. So…many… classic catchphrases.
As if! Whatever! Totally buggin! Riding the crimson wave! Baldwin! Betty! And of course, Monet, where from far away it looks okay…but, up close it's just a big ol' mess.
Priceless jargon that you know you still use in your every day vocabulary. Right, Ambular?
9. Rest in Peace, Ms. Brittany Murphy
"Rollin' With the Homies" 4 lyfe.
Miss you.
10. Forever feeling "Fancy"
Remember Iggy Azalea? Of course we do. In 2014, no one could escape the wrath of "Fancy" along with its Clueless inspired accompanying video.
While Ziggy Iggs career may no longer at be at the top of everyone's minds anymore, this classic clip is one we'll never, ever forget.
11. … And this wig snatching performance of Ms. Silverstone slaying "Fancy"
Just watch.
12. So, back to the legendary soundtrack….
Although it wasn't included on the final tracklisting, a bubbling under banger called "Just a Girl" by an equally unknown ska quartet named No Doubt is playing when the film kicks open.
Fast forward to a year later, and Gwen and company's third studio set, Tragic Kingdom, would become one of 96's best selling album at diamond certification…aka then million copies sold.
Needless to say, 'Clueless' certainly played a part in music history by putting Gwen and the boys straight to the top of the charts. So, turn it up and let's live our best Noxeema'd lives yet.
13.Took garden party etiquette to a whole new level…
Cher's timeless debate class monologue paying ode to Lady Liberty is really the only thing we need in our lives right now…
14. We just can't leave out Batgirl…
Think about it….without Clueless…there would be no Silverstone entering the DC comic book world as Batgirl in 97's box office bomb, Batman & Robin.
That also means there would have never been that epic catfight between her and Uma Thurman… also known as the jungle goddess herself, Poison Ivy.
We shudder to think where our lives would be without this epic diva battle royale. Don't think about it and just revel in it one more time…today.
15. Because we're still young, hip and so beautiful…
….and we'll be blasting Jill Sobule's "Supermodel" for the rest of our pop culture runway struttin' lives.
16. It's just, like, sooo '90s…..
It's seemingly impossible to have a conversation about the '90s and not bring up this movie.
Go ahead and try it. All the more reason to realize that it really was the best decade, like, ever.
17. Christian… an LGBTQ icon…
Before Ellen was Ellen, before Will & Grace, there was Christian…the handsome, well dressed new guy in town who Cher made a play for.
As we all know, Christian was just a little too fabulous for the ladies, and although it wasn't entirely spilled in the movie, we got that sense by the end of it that he was comfortable with his sexuality.
He's a true pioneer for anyone of us in the '90s who were struggling to find themselves. Hey, it's okay to just be you. Thank you for the continuous life lesson.
18. It's still guaranteed to warm your heart…..
Whether it's the budding romance of Ms. Geist and Mr. Hall, Cher's tender relationship with her father, Dionne and Murray's jeepin' drama, or the sweetness of Tai and Travis, there's not a moment in the film that still won't leave you with that special tingle.
And in these crazy times? It's on god damn repeat. Thank you, Netflix.
19. "Suck & Blow"….
How many times have you played it over the years? Way too many too count….
20. "Wah Wah Wah"…
We could all use a little Radiohead somberness to help numb the 2020 pain…..
21. We love you, Ms. Murphy….
One shout-out is simply just not enough.
22. No 'Clueless'… No 'Mean Girls'…
With each new decade comes a new coming-of-age teenage comedy. While the '90s certainly own Clueless, the '00s served us Mean Girls.
Hecklerling's high school comedy brilliance certainly paved the way for Girls creator, Tina Fey, to shine through a decade later.
Can you imagine a world without either Clueless or Mean Girls? It just doesn't make any type of sense.
23. Cher and Josh 4 lyfe….
…a movie match made in former step-sibling heaven… and we still love every single still sort of weird moment of it.
24. Where the Cher Horowitz pop culture reign began…..
Did you really think we would leave here without blasting Aerosmith's "Cryin" at least once?
25. Do you really need another reason??
Okay, here's one more… remember the Clueless T.V. series??
See? Whether it was on television, the silver screen, our headphones, or in our everyday lives, there's just no escaping the magic that will always be laced within this classic movie.
And it's for that mighty reason that our pop culture-d souls bow down to you, Ms. Heckerling, Ms. Silverstone, Brittany Murphy and the rest of the still most beloved gang.
Thank you… Okay, Ms. Dash, too.
More About the Author
Patrick DeMarco has been an avid
entertainment writer for the
City of Brotherly Love for over a decade.
See Patrick's Twitter / Instagram