Philadelphia Retro Pop, Rock, Americana & Jam Quintet, Chestnut Grove
Philadelphia area retro pop, rock, Americana and jam quintet, Chestnut Grove, recently premiered the video for their new single, "Ain't Got Nobody" (watch now via American Blues Scene). The groove-filled video follows a corporate worker through a series of mishaps. As he tries to make his way to the office, he encounters various members of the band. The story culminates with Chestnut Grove performing outside with a tree lined view of City Hall behind them.
Earlier this summer, the band released their debut, studio recorded LP, The Album, produced by Derek Chafin. The LP features eleven original songs alternating lead vocals by singers James Daniels and Dee Gerhart and was celebrated with a sold out show at Ardmore Music Hall in May. American Songwriter exclaims that Chestnut Grove is "a jam band with a love for classic rock and roll."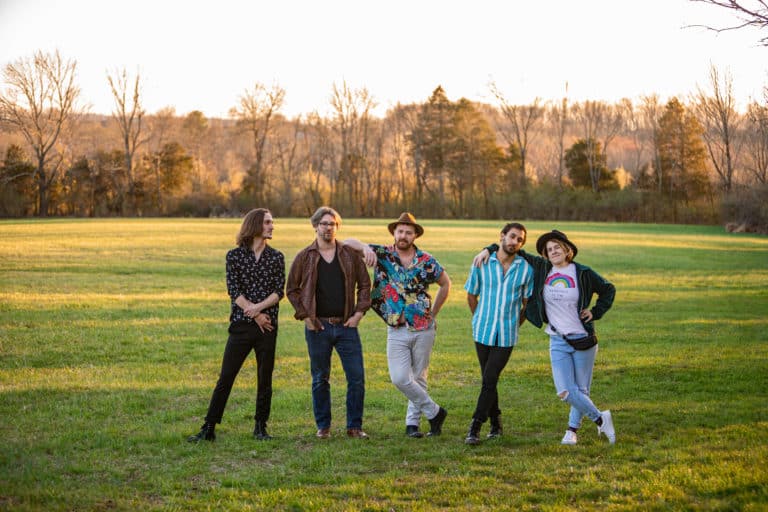 The members of Chestnut Grove have been together since high school and are nearing their thirtieth birthdays. The sonic themes on The Album reflect this period of growth. This theme can be heard through lyrics that discuss how difficult it is to cope with getting older, the pain of losing friends and the sting of romantic breakups.

Initially scheduled for release in 2020, The Album was pushed back to the spring of 2021 following the release of the first single, a coming-of-age tune. The song, called "Golden Age," is about "what it's like when life is rapidly hanging around and it feels like all the good days are in the past. When in reality life is a journey and a new beginning is always around the corner," says Daniels.
"Ultimately, whether the timing of 'Golden Age' is a stroke of luck or encouragement for better days to come, it can simply be relished in the here and now for what it is: a catchy song written from a place of good memories that, given Daniels' hopes for what the tune provides, is an unquestionably winning piece of work," cheered American Songwriter.
Chestnut Grove was formed by John Tyler, James Daniels, Sean Murray and Dee Gerhart in 2011 during their senior year of high school. The band's name was chosen in memory of would-be member and guitar player Matt Barber, who passed away tragically in a car accident on Chestnut Grove Road.
Chestnut Grove toured the US relentlessly as a part of The Nimbleslick Entertainment roster from 2018-2020 until sidelined by the pandemic. They have shared bills and stages with The Hooters, Turkuaz, Ron Gallo (Toy Soldiers), Cyril Neville & the R.S.B., The Felice Brothers, Ryan Montbleau, Wilderado, People's Blues Of Richmond, Hoots & Hellmouth, Wild Adriatic, and others while touring the East Coast from 2015 to 2017.
"If people can relate, jam out to it and it reaches the people who need it, then mission accomplished for me. Bands still exist. The idea of getting your friends who have instruments together and making noise, isn't dead. It is possible to stick through good and hard times, and still love what you do and who you do it with. I hope that our music will inspire more people to create and relate. Music is the universal communicator. It's healing and for everyone."

Dee Gerhart, Lead Vocals, Chestnut Grove