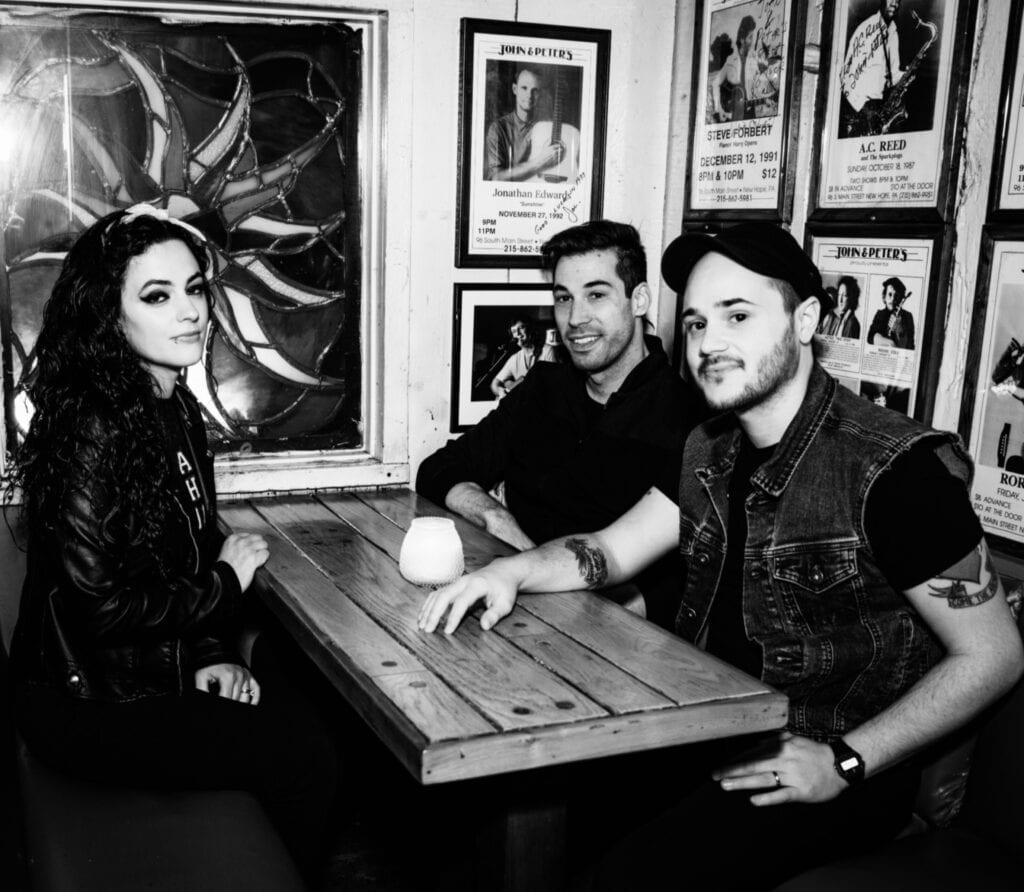 Dispatch from Jamie & the Guarded Heart
What's The Best Thing You've Binged? One word…Seinfeld. We needed something light and funny and without an emotional component. It seems like everyday is full of all of this weight. So, it's been nice to kind of take a break from that and dive into a 90s classic.
Which Philadelphia Restaurant Should We Get Takeout From? Our go-to restaurant has been Greyhound Café. They're a vegan joint in Malvern but also have a location in Philly. Order the vegan BBQ Chicken…or three of them. You will have no regrets.
Which Philly bands should we be listening to? Too many to name buuuuut here we go…Andorra, Cassettes, The Tisburys, Hootsie, St. Brendan, Kayleigh Goldsworthy. Oh, and The Hooters obviously.
Which Non-Philly bands should we be listening to? I think the pandemic has caused us to go back to our safe place with some classic stuff: Tom Petty, The Cars, Bruce, Joan Jett etc but we've also been mixing in some Brian Fallon, Against Me!, American Aquarium, Worriers, Jason Isbell, The Menzingers, Red City Radio. If you're looking for some slightly off the radar stuff…Jacob and the Good People and Truett
When This Is Over Who Do You Want To Play A Show With? We had a show scheduled on 5/30 in Manayunk with our friends Andorra and The Tisbruys. Obviously, that isn't happening now but we will make it a PRIORITY for after the quarantine.
First public place you want to go to after quarantine? The Grape Room to see some live music. Live streams are nice but I miss the volume and the human connection that you can only get in a music venue.
First activity you will do after quarantine? Hmm, it's a four way tie between band practice, playing a show, going into the studio and getting black out drunk at one of our favorite dive bars.
Have you embraced cocktail hour? What's your favorite cocktail? Yes, cocktail hour is real. We've been doing these live streams on Monday nights, so we've downgraded our cocktail hour to Mondays from 6p-12a. So, basically we took a week's worth of cocktail hours and moved them to one day. Felt like the right call at the time. Anyway, my go-to drink has been a margarita and Morgan has been doing Jack Daniels.
Where should we be donating our dollars to help out our fellow Philadelphians? Through our live streams, we have been very fortunate to raise some money for a few different places. We have donated to some people in the music industry (bartenders, sound people, etc) personally. We've also donated to Philabundance as well as our local food pantry, The Upper Merion Area Food Cupboard. Though these have been some dark times, we've seen a lot of light and generosity from people. Which is pretty incredible.
What's your favorite jawn? Buddy's Water Ice in Norristown, PA
Find Jamie & the Guarded Hear Online:
Website
Facebook
Instagram
Twitter