Music
Kev & Ty's Record Club 7/10
|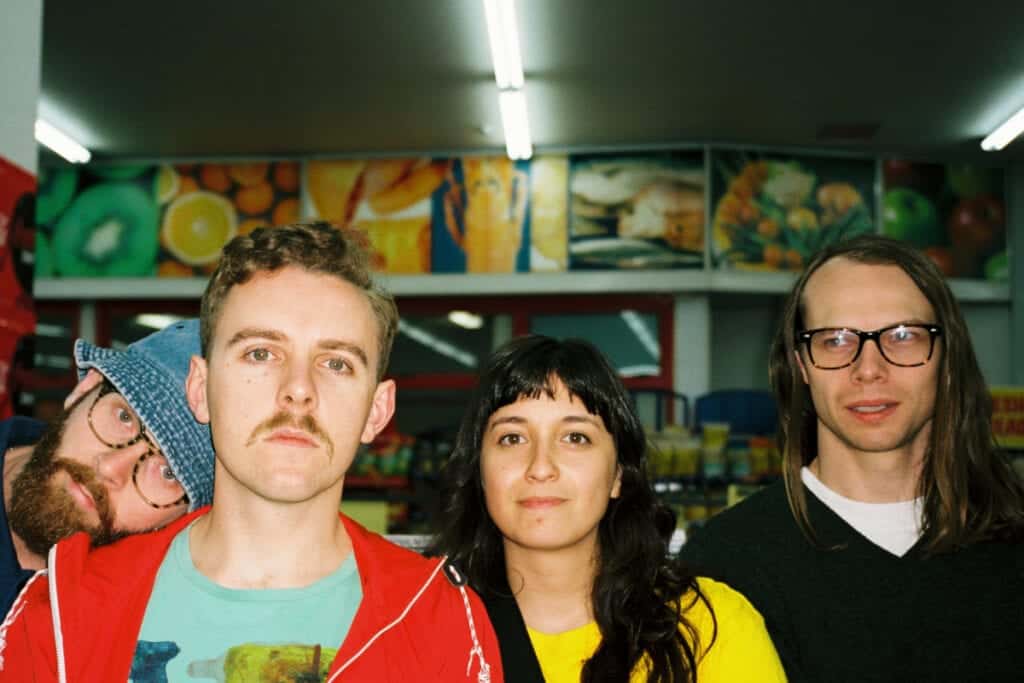 THE A-SIDE:
Oceanator – "A Crack In The World"
Brooklyn, NY's Oceanator has a new record coming out in late August, titled Things I Never Said. Fronted by Elise Okusami, single "A Crack In The World" is a 90's power-pop influenced, riff-heavy exaltation a la Weezer or Sleater-Kinney. -Tyler
MỸ TÂM – "I Don't Need Your Money"
MỸ TÂM is the project of Philly based singer-songwriter Tammy Huynh, and their newest release, Philly Pop, is a play on "city pop," slick and colorful pop music that grew very popular in Japan in the 80's. The record is put together like a radio show, with opener "I Don't Need Your Money" acting as a mission statement: capitalism sucks. –Tyler
Songwriter and vocalist, Tammy Huynh and I attended Wissahickon High School together. She is one of the hardest working musicians I've come across in the Philly area, consistently studying and furthering her musical education. Huynh's voice is strapping and her backing (Members of Dot Gov) propels this group forward. The whole Philly Pop EP is smooth. Powerfully two-step to this all day long. -Kevin
49 Burning Condors – "Marigold Lake"
49 Burning Condors are a Philadelphia-based "gothic country" band, and their new album, "Truths And Roses," comes out on August 8th. First single, "Marigold Lake," is a dark gallop that features singer's Kimber Dulin's haunting vocals. -Tyler
"Marigold Lake" is an epic soundscape with resonator guitar rock from the pines. The headless horseman launches attacks on the army of the dead to this track -Kevin
Dweller – "Donkey"
Philly surf-rockers Dweller released their newest single, "Donkey," earlier this week and announced their sophomore LP, titled Aquarium. It's a quick and bright burst of jangly guitars layered in harmony, rich with desert metaphors and sunshine. Think Built To Spill on the beach. -Tyler
Eric Slick – "When It Comes Down To It"
Dr. Dog drummer Eric Slick has been releasing music under his own name for a couple years now, and he just announced his new record, Wiseacre. First single, "When It Comes Down To It" brings a slinky groove to the more punk-influenced songs of Slick's earlier solo work, while still retaining that sarcastic energy. -Tyler
THE B-SIDE:
My Morning Jacket – The Waterfall II
On Friday, legendary Tennessee jam rockers My Morning Jacket surprise released the sequel to their last record, 2015's The Waterfall. Titled unsurprisingly, The Waterfall II, it's a collection of leftover material from those 2015 sessions that feels lovingly curated. HIGHLIGHT: "Climbing The Ladder" is a joyous piece of disco country. -Tyler
Got to see these guys on The Waterfall tour back in 2015 at Tower Theater. Around the same time, The Bataclan Theater was bombed in the November 2015 Paris attacks. Security was intense and people were stressed. I had a feeling of uneasiness attending this show too. Venues are a sacred place and it felt like that was taken away from concertgoers. My Morning Jacket hit the stage and that all disappeared. The Waterwall II brings back some of those memories and I will forever be grateful for this band for getting me through my first concert back. The Waterwall II is another masterpiece. FOCUS: "Magic Bullet" -Kevin
Margo Price – That's How Rumours Get Started
That's How Rumors Get Started is Nashville singer-songwriter Margo Price's third record, and it's also her best. A mix of Fleetwood Mac-inspired studio rock ("Letting Me Down") and classic country ("Stone Me"), this Sturgill Simpson-produced album has something for everyone. HIGHLIGHT: "Prisoner Of The Highway" is 100% John Prine storytelling. –Tyler
Margo Price's That's How Rumors Get Started is a nod to Sound City's Rumors. Price's vocal vibrato on the opener is reminiscent of the gypsy, witch herself. The mood changes a bit with the swampy, mud rock number, "Twinkle, Twinkle." Love the way Price sings the word "bitch" -Kevin
The Beths – Jump Rope Gazers
The Beths' 2018 debut Future Me Hates Me was one of my favorite records of that year, coming out of New Zealand with perfect power-pop hooks and songs that will get stuck in your head for months. Their follow up, Jump Rope Gazers, follows in the same mold while upping the production and expanding the palette. HIGHLIGHT: "Do You Want Me Now" is sweetness and heartbreak concentrated to its purest form. -Tyler
Step aside, Kiss. Rock n Roll and "Beth" are no longer mutually yours! It belongs to The Beths. Jump Rope Gazers opens with a "United States of Whatever"-like riff with Elizabeth Stokes singing "I'm not getting excited, 'cause the thrill isn't mine to invite in" but it is all yours, Beth… The Beths bring us on a rollercoaster of emotions with more power-pop rippers like "Dying to Believe," "Mars, the God of War" then cuts like "Jump Rope Gazer" that are sure to make you feel warm and fuzzy inside. Stokes' lyrical approach isn't one of confidence. She sets her expectations low, only so she doesn't feel let down. This is indicated on tracks like "Don't Go Away," "Just Shy of Sure," and our opener. However, this Cars meets Country Barnet amalgam of rock finds the courage musically. It's punk, it's rock, it's my top album of 2020. -Kevin
The Jayhawks – XOXO
Alt-country pioneers The Jayhawks returned with their 11th LP on Friday, titled XOXO. It's their first album of "new material" since 2016 (2018's Back Roads and Abandoned Motel was re-recording older material) but they haven't lost a thing. HIGHLIGHT: "Dogtown Days" is a certified ripper. -Tyler
This record was made for WXPN listeners. -Kevin
Riverby – Smart Mouth
Here's the Philadelphia Globe's full review of Riverby's Smart Mouth. This record continues to be a fixture in the Manayunk music community. The album is like a dream sequence on the Sopranos, it's a sweet, teenage fantasy – only for Sophie Greenberg to wake you up yelling, "where's the f@#$in' gabagool?" -Kevin
Every week, Kevin & Tyler will take a look at 5 local singles (The A-Side)
and 5 national albums (The B-Side) through Kev & Ty's Record Club!