Interviews, Music
Philadelphia's Dear Forbidden Holds Nothing Back on "Before the Night Expires"
|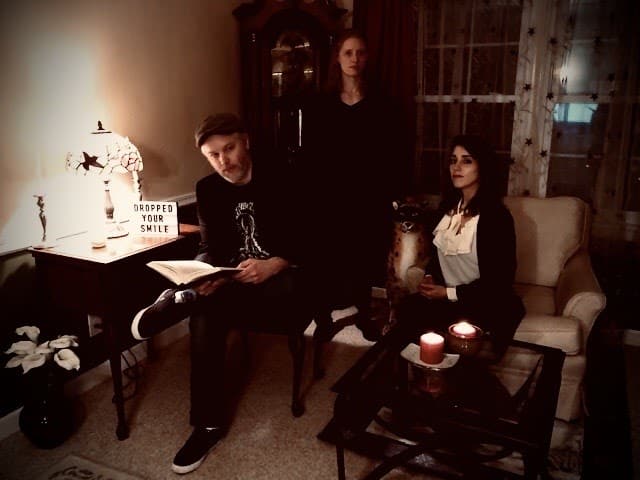 Philadelphia's Dear Forbidden Holds Nothing Back on "Before the Night Expires"
Dear Forbidden is a female-fronted rock trio based in the Philadelphia area who find their roots in 90's grunge, early 60's rock and noise rock. The band released their first EP in March of 2016 titled Glitter & Dissonance, followed by two tours spanning the Midwest, Nashville, D.C., New York and Boston. They released their second EP, Slow Beat in November 2017 which was accompanied by a music video for their single, "You Say You're Outta Your Mind." Before the Night Expires is the band's third EP and features the singles, "Pledge" and "Smile Dropper." You can stream and download Dear Forbidden's music on Bandcamp, Spotify and iTunes and follow them on Facebook, Instagram and Twitter.
I listened to "Before the Night Expires" by Dear Forbidden. The grunge rock record explores tension on a political and social level. The four song EP is fast, dynamic and reminds me of a modern Sonic Youth and Dinosaur Jr split. Given my love of this type of rock music I sat down with the band to ask them a few questions.
Brian: Where did you record your album, Before the Night Expires?
Dear Forbidden: We recorded the drums at Gradwell House. The rest was DIY with the help of our friends, Nick Rossi and Scott Radway. Scott also mixed our EP.
Brian: What is Before the Night Expires about?
Dear Forbidden: This EP is mostly a collection of songs that we've been playing pretty consistently for the last few years, but certainly contains themes of horror and despair at the political landscape since 2016, as well as themes relating to my own personal struggles with relationships and womanhood.
Brian: Was the record considered a quarantine EP?
Dear Forbidden: No, we started recording these songs in 2018 with the first single, "Pledge" which was released on Election Day in November 2018. Our original plan was to have at least five to six songs on this EP, but COVID sadly changed that – another lesson in the things that we took for granted pre-quarantine – and we didn't want to keep putting off the release since it's been a few years since our last EP, Slow Beat, especially not knowing when we'd have another chance to record drums and safely be together in the same room.
Brian: The transition to Invisible Corset to Pledge is nearly streamless, yet also feels like a transition to a live performance, was this a live tracked album?
Dear Forbidden: This EP wasn't live-tracked, but it does mimic exactly how we would typically order and transition the songs in most of our live sets for the last two years.
Brian: What is meant by the words "Simon says say the pledge" in your record?
Dear Forbidden: Nearly all of my lyrics are written in a stream-of-consciousness way to be interpreted later. My feeling about the line, "Simon says 'say the Pledge'" has to do with the way that we were taught to memorize and recite the Pledge of Allegiance every day in school from age 5-18 without any real thought, education or question as to what it means to be a US citizen and the full history that's attached to that.
Brian: In the song "Smile Dropper" you say "white crowds with torches shout" is that a reference to hate crimes in America? What does that mean? and what does the song mean in a larger context?
Dear Forbidden: Yes, that lyric actually was taken directly from the events in Charlottesville in 2017 and does directly reference white supremacy. Again, taking something that was written largely in a stream-of-consciousness way and interpreting it after the fact, there are clear themes of different kinds of privilege and oppression in this song. The first verse talks about white supremacy and the struggle to not be deafened or to shrink in response to hate. The second verse is about one of a million experiences of harrassment in my life as a female that happened downtown when I was in grad school, minding my own business, thinking about classes, when some man started screaming at me because I didn't respond when he said "You dropped your smile" which, after a few progressively louder repetitions on his part, turned into "YOU DROPPED YOUR FUCKING SMILE" peppered with a few other expletives. The third verse ends up being about my own privilege and financial resources that have been given to me rather than necessarily earned on my part, largely for the circumstances that I was born into within this world, and the recognition of that. Calling myself out, in a way. The line, "break dance, another chance to bring the house back down" vaguely references the lead-up to the Congressional elections in 2018 after watching the Tea Party and the alt-right gain ground in Congress every two to four years after Obama was first elected, and also the idea of "bringing the house down" in a good way, in the direction of the greater good.
Brian: The end of your record is a complete contrast to the beginning of the record as in the end of a story by tone and rhythm was this intentional?
Dear Forbidden: Not necessarily, just how it evolved. The opening track starts out as straight-up rock pop, and then things start to disintegrate, getting noisier and heavier. My bandmates joke that I bring them these pretty songs that they then fuck up. And it's the best!
Brian: As a Philly Local band what do you expect to share with this record in the midst of the quarantine?
Dear Forbidden: Just our little corner of reality, the conviction that music is one of the few things that makes getting out of bed a little easier, and the hope that others can relate and take something positive away from our music.
Find Dear Forbidden Online Here:
Facebook
Instagram
Spotify
More About the Author: Brian Walker is a musician, writer, and podcaster. He is the songwriter behind A Day Without Love, podcaster for Dreams Not Memes and enjoys writing about