News
PHLove for PHL COVID-19 Fund
|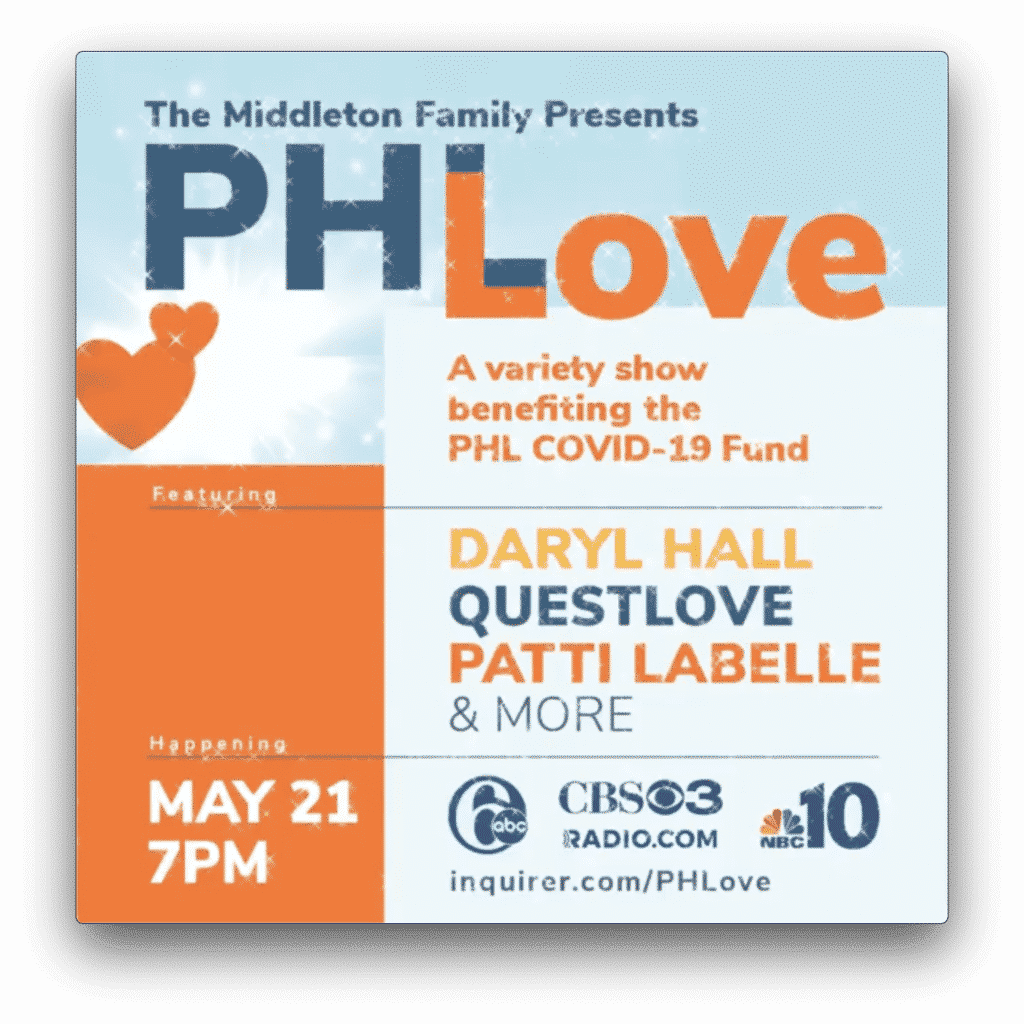 The strength and resilience that is possessed by the people of Philadelphia never ceases to amaze. It's in these times that we can fully appreciate the city that we all love so much — Philly.
Say what you want about Philadelphians, but we are unwilling to give up – not only on ourselves, as it turns out, but also on one another. Sure, nobody likes us, but you know… We don't care…
In the spirit of philanthropy and helping thy neighbor, the PHL COVID-19 Fund just announced that it will be hosting PHLove, an event presented by the Middleton Family, a one hour variety show on Thursday, May 21 at 7 p.m., to support the COVID Relief Fund.
The PHLove livestream will boast some real heavy hitters from the Philly music scene, such as Daryl Hall, Questlove, and Patti LaBelle, the headliners. It will also be featuring DJ Jazzy Jeff, Amos Lee, DJ Diamond Kuts & Friends, WALLO267, Jeffrey Gaines, Jay Buchanan of Rival Sons, The Geator, Jerry Blavat and Friends, and Pastor Alyn Waller and The Enon Tabernacle Fresh Anointing.
Where you can watch PHLove live on Thursday:
6ABC
CBS3
NBC10
96.5 TDY
98.1 WOGLB101.1
KYW Newsradio
+ stream nationwide online at Inquirer.com .
Here's a few quick facts about the PHL COVID-19 Fund:
Since March 19th, the PHL COVID-19 Fund, powered by the Philadelphia Foundation and United Way of Greater Philadelphia and Southern New Jersey (UWGPSNJ), has been rapidly deploying critical funds to nonprofits serving on the frontlines of the COVID-19 pandemic.
In just eight weeks, the PHL COVID-19 Fund has raised an unbelievable $16 million dollars (!) and aided nearly 400 regional nonprofits.
The PHL COVID-19 Fund has prioritized supporting people who have been hardest hit by the coronavirus pandemic, such as seniors, people experiencing homelessness, those with disabilities, low-income residents without health insurance, people with substance abuse disorders and survivors of abuse.
For more information on the PHL COVID-19 Fund, recent grantees and its efforts to date head to: www.PHLCOVID19Fund.org