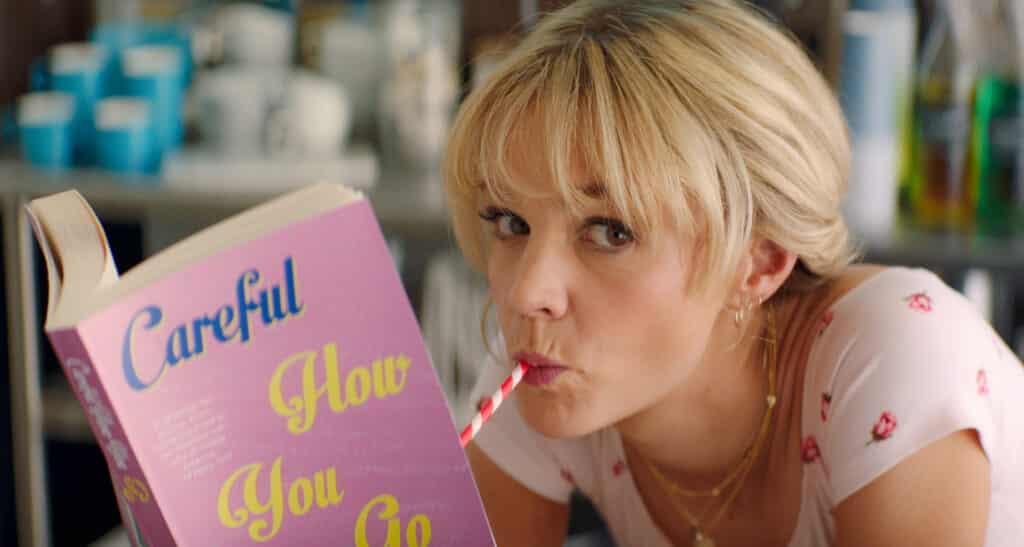 Promising Young Woman is an unusual combination of styles, stories, and characters that audiences may not have seen in a movie before. Their amalgamation confronts critical issues in our daily lives. The film stars Carey Mulligan as an exaggerated figure whose mission is to expose perpetrators of sexual assault. Mulligan is surrounded by dark comedy and a loaded ensemble that will spark loaded conversation. 
The movie is directed by Emerald Fennell, who is best known for playing Camilla Parker-Bowles in the most recent seasons of The Crown. Fennell guides a cast of Clancy Brown, Bo Burnham, Alison Brie, Connie Britton, Alfred Molina, and Sam Richardson in support of Mulligan. While the ensemble stands on its own, Fennell's direction elevates the product into an astounding piece of social commentary.
The antagonist is the only character who audiences get to know in a meaningful way. Her interactions with other humans are fleeting and somewhat predictable. Mulligan's Cassie Thomas is a med school dropout who goes to bars and toys with men on the brink of committing sexual assault. As the film unravels, we learn Cassie's motivations as she embarks on a mission of revenge on behalf of a friend.
Promising Young Woman uses a Get Out misdirection by harnessing humor to mask underlying points. The humorous moments soften the edge of scenes that otherwise deliver blunt force trauma regarding the pervasive and casual dismissal of sexual assault. Without the exact right type of writing that is present in the film, the movie's allegory may have been smothered by its deconstruction of serious topics.
Its comedy is a required trait for a film that is initially jarring. Sometimes the movie's black humor promotes an imbalance of emotions. A few scenes are an unusual mix of agony and wit. Promising Young Woman is a movie where the back half of its story prompts a myriad of reactions as it revisits events more directly.
Mulligan's character is an usual femme fatale in that we ascertain her objectives early in the film, just not necessarily her motivations. The ways in which Cassie exacts revenge are cold, dangerous, and meticulously calculated. Taken at face value, her ends do not always justify the means. When understood that her actions represent an overall point on a societal problem, Promising Young Woman levies devastating blows on norms surrounding sexual assualt and rape.
In addition to a tight story that moves along at the appropriate pace, Promising Young Woman also has a sharp musical accompaniment that memorably weaponizes Britney Spears' "Toxic." The pop classic is one of several unique puzzle pieces that fit together well as a whole. Comedy, serious discussion points, and bursts of carefree moments add up to a compelling expose.
Promising Young Woman is a bold filmmaking concept and is the most potent storytelling concept of 2020. Fennell's movie could have easily been derailed as a work carried away as a rant, but stands as a poignant must-see film. The director openly discusses important topics that are difficult to pull off without their emotionally devastating and intellectually deft touch.
About the Author: John Saeger is a music and film writer from Philadelphia. Since 2017 he has been writing his pop-culture blog Long After Dark, a site dedicated to the arts in the City of Brotherly Love and beyond. email/ Twitter