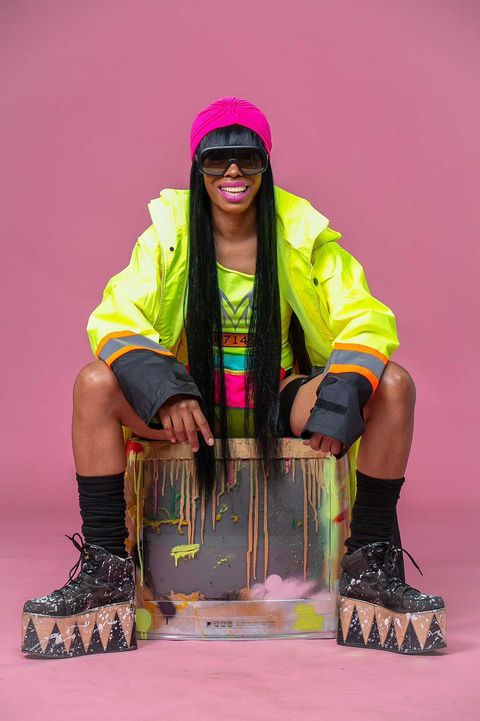 In the world of fashion design, bubble queen Majeeda Monae is young and ready to go.
A Philadelphia-based independent designer, Majeeda has been in the game since 2014 — six years might seem like a long time to those outside the industry, but in the fashion world, alongside veteran designers ten, fifteen years into the scene, Majeeda Monae is, relatively speaking, a young brand. That being said, Majeeda is up-and-coming and full of pep, already well on her way to recognition. She has participated in Philly Fashion Week and headlined in New York's Street Fashion Week. In a recent Walk Fashion Show in Detroit, she showcased alongside SB Shade's Stevie Boi.
"Majeeda is my actual birth middle name," she tells me. "My sister added the Monae on it to give it some kind of pop."
From watching DIY videos on YouTube of skater skirts to casting fifty-plus models, Majeeda has gone a long way, and she does so colorfully. "We release collections three to four times a year," she explains. Of those, the Ocho collection remains her favorite. Composed of bold, De Stijl-like color schemes, Ocho sits at the point where fun meets sophisticated. Ocho, the Spanish word for eight, is Majeeda's rendition of the Magic 8-Ball aesthetic. Among the collection is The Flower Power jacket, where yellow, red, and white splatters take shape as blooming flowers, its sleeves shelled in a layer of transparent PCV. Another shirt reinvents the baseball top style by using leather as its material. A fan of fun, different materials, Majeeda often pairs the opposite and unexpected in an irresistible way.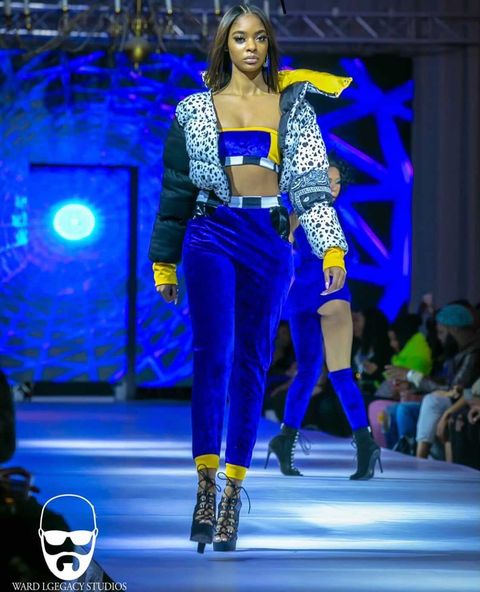 "Whenever I make collections — titles, names, colors, fabrics, I really think deep into them, because they all have to tie in. Ocho was my collection, I think, that took everybody by storm to let them know, hello, I'm in the building as a new designer, I can colorblock, and I have technique." The Ocho collection, which leans heavily into a bright puffer style, made Majeeda realize that "colorblocking and bubble work is my thing." Brittany DeShields and her bubble work, Majeeda tells me, is another source of inspiration.
Asked about the inspirations behind her design, Majeeda explains that, "Even if it's a dark time in my life, or it's kind of chaotic, I feel like color just always makes people happy," she says. "So I try to use as much color as possible. You know, colors control moods. It's very inviting, and it just makes you feel like you go back into a kid zone. Me, it's definitely a good comfort zone, especially with somebody dealing with mental health. So for me, happy, happy, happy; fun, fun, fun, you know?"
Majeeda was born and raised in Philadelphia, and she speaks the way she designs: jovial and endlessly enthusiastic. She does not hold back. When it comes to her start in fashion design, she describes herself as "forty percent school-taught, sixty percent self-taught." While living in a Philadelphia Housing Authority home, Majeeda became involved with starting a drill team for a youth program. That's when she started looking up how to make skater skirts. Coming from a long line of relatives who sew, Majeeda would eventually take up sewing, and with a strong West Indian background, Majeeda would find her early clients in dance halls. "Walking in a party, you got six girls in Majeeda Monae. No one looks alike, everybody is in different outfits, and you in there looking flawless. It was better than money…It's an adrenaline rush."
Now, after various showcases and castings, her clothes have made their way into Philadelphia's Mere Argyris, a designer showroom in Old City, and she recently acquired a 650-feet studio space. These are two significant developments for Majeeda since quarantine began, although the pause on fashion shows has also hindered certain opportunities, including a potential casting on Project Runway earlier in the year, and in the way she works.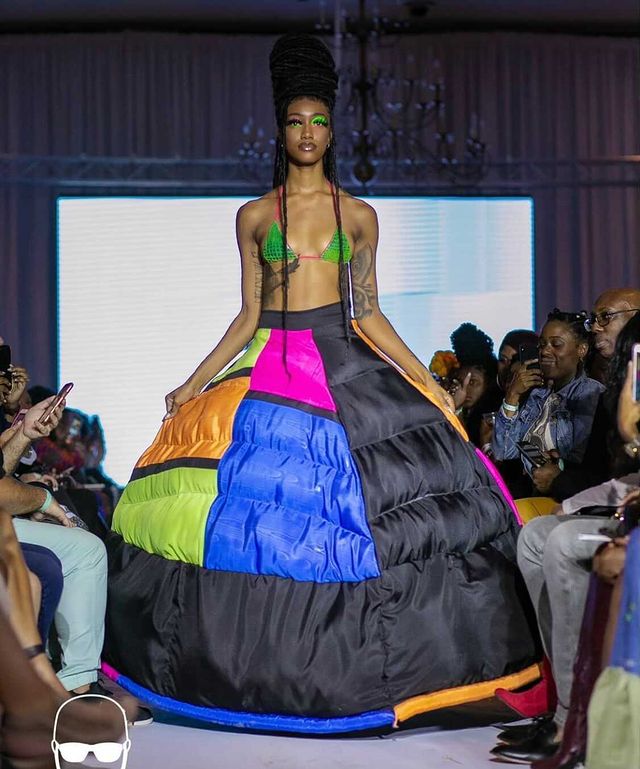 "Sometimes it's just hard to self-motivate. I'm a people person. I'm a hands-on mingler, life of the party. So just sitting in here…after a while, it gets to you," she laughs. But the pandemic has also brought on a new perspective. "It allowed me to go back, cross these t's, dot these i's, but also to stay self-sufficient. Meaning that — you can't depend on these showcases or these things to define you as an independent designer, because you realize you're not so independent. If all of these things stopped, right? And it's no shows, and you didn't establish yourself on these media or these platforms, or this thing, what do you have? Other than your designs in your mind or packed up in your closet, with no one to see?"
Beyond COVID-19, rising issues of racial justice have been impactful as well. "To me, one of the biggest challenges now is with getting a team, and having a diverse team. And the world is suffering from so much hurt." Majeeda pauses, getting emotional. "It's hard, when I used to post before all this craziness was going on, I didn't have to rethink before I post something. As a Black designer, I didn't really care. It was not really meant for Black or white people, Chinese or Asian, Spanish or Jamaican…It's just for people. It's clothes. Now, I have to rethink the right stuff. And the thing is, the team that I have that has supported me…it has really nothing to do with race. It's just, they solely believe in me."
Majeeda had been working primarily on her own until this year, when Elly Conklyn joined the team as her personal assistant. Majeeda often describes Elly, who is also in the video interview with me, as a "God-send." They happen to be practically neighbors, living five minutes away from each other. In the digital age, Elly has been assisting with helping to establish a greater social media presence, which is now inextricably tied to one's artistic brand. "Her stuff is all wearable art. It's really like, it's phenomenal. It's crazy because the editorial shoots that she's done, the clothes that she makes I can see at any high fashion magazine. We're sitting on this treasure chest, it's just a matter of getting exposure."
But for Majeeda, leaving behind footprints shouldn't be too difficult. With magnificent pieces like the PUFFARELLA Bubble Skirt (In Living Kolor Collection), a surreal play with space, volume, color, and material, where synthetic fabric juxtaposes the grandiosity of, say, a hoop skirt, Majeeda Monae is unabashed, welcoming unconventionality — both her personality and her design will invite you in, catch your eye, take hold of it, and leave a patchwork of sparkling afterimage.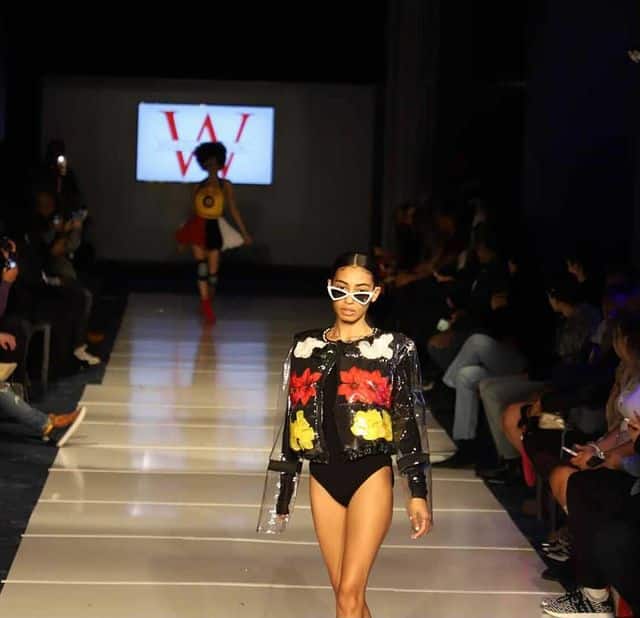 What does fashion mean to Majeeda? "Fashion is anything that tells a story about yourself through clothing…For me, whatever you can own. I only deal with, even with assistants, models, people I work with, they have to stand out. Meaning in fashion, be whoever they are. Confident. So fashion is confidence. It's really not one thing: the way you roll, the way you look, the way you be. It doesn't have anything to do with the brand, how much it costs, how you put it on. So for me, it's like that."
Instagram
TikTok
Etsy
About the author: Kelly Liu is a senior at the University of Pennsylvania studying English. She discovered and fell in love with the local DIY scene after moving to Philadelphia three years ago. She also writes for WQHS Radio and hosts a weekly show on indie music.