Music
25 Years of Alanis Morissette's "Jagged Little Pill"
|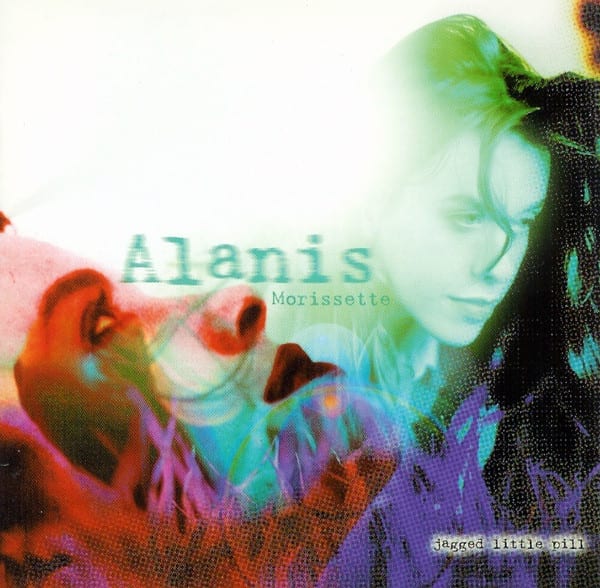 By Patrick DeMarco
"Do I stress you out? My sweater is on backward and inside out, and you say, "How appropriate," purrs a then twenty-one year old Alanis Morissette on "All I Really Want," the amplified opening track on her monumental third studio album, Jagged Little Pill, which has (somehow) just turned twenty-five years old.
Yes, you read that right….a quarter of a god damn century old. How is this possible when every track on this standout '90s record still sounds as in tune—and relevant—as it did back then?
Released on June 13th, 1995, we must begin the Jagged journey by first getting to know the lovely Ms. Morissette.
Hailing from Ontario, Canada, Uncle Joey's ex—oh, we'll get there—first got her start in music at six years old by taking up piano and dance lessons. We also have to reminisce on her five-episode standout stint on Nickelodeon's kid variety show, You Can't Do That On Television, in the mid-'80s….some might even say that's where the Morissette magic truly began.
All of it would soon pay off as she would go on to secure her first record deal at the young age of sixteen, releasing her first two records–Alanis and Now is the Time–both of which were miles away from the rock-tinged goodness of JLP with their dance-pop/love ballad influences.
See the video for her top 20 Canadian hit, "Too Hot" video below. Own those dance moves and that hair, girl!
But then….something happened. When some–okay, most–music critics deemed Morissette a failure after Now is the Time didn't match the success of its predecessor and she ended up parting ways with her record label, that's when she knew what she had to do….change her bubble gum pop image completely.
In 1993, after her new manager at the time, Scott Welch, was impressed by his new client's "spectacular voice," he would eventually link Morissette up with mega music producer Glen Ballard, and soon she would sign with Maverick Records in 1995….and that's when the pair would go on to craft music history together.
Fun fact….Maverick Records was co-founded by the one, the only…Madonna. Hey, she knows true talent when she hears it.
Besides learning how to play guitar for the record, Morissette teamed up with Ballard to produce and co-write every track on the album and serve the world a record that was—and still is—truly one-of-a-kind.
As we all know, the Pill party truly got started with lead single, "You Oughta Know," an angst-y, plugged in banger that is as much a feisty break-up jam as it is just a true piece of '90s earworm candy.
It also didn't hurt that MTV was a true Morissette fan straight out-of-the-gate, giving spins to the equally fiery accompanying video for "You Oughta Know" around the clock.
120 Minutes, anyone? Feeling nostalgic yet?
Perhaps the grandest slice of "YOK" truth is that we'll truly, um, never know if it is in fact about Uncle Joey, err, Full House's Dave Coulier, who Morissette dated before the record came out.
She has since denied it…but we all know…it is.
Six Billboard chart defining singles were released from the album—"You Ougtha Know," "Hand in My Pocket," "Ironic," "You Learn," "Head Over Feet," "All I Really Want," all of which would undoubtedly help the record go on to sell a whopping thirty-three million copies worldwide.
Remember when records sold that much?? We certainly do….this was one of those records that everyone just had to have. Even your Mom, Grandmom, and your cat had a copy…it was that irresistible not to have in your esteemed CD collection back in 1995.
Of course, it would come as a surprise to absolutely no one when Morissette would win the well-deserved Grammys for Best Female Rock Performance for "You Oughta Know," Best Rock Album and Album of the Year in 1996.
However, if we really, really want to spill some proper tea about Jagged Little Pill's legacy, we must talk about what the record did—and still does—for female empowerment. Not since Janice Joplin in the late '60s–may she rest in heavenly peace—were we straight-up served with such a unique female voice on the radio. The line "would she go down on you in a thea-tah" from "Know" was reason enough to tell you that Alanis did not come to play…and those cheating dogs better watch their backs.
Morissette's newfound radio presence would also usher in a new wave of ready-to-rock female voices including Sarah McLachlan, Tracy Bonham, Meredith Brooks, Paula Cole, Liz Phair, Jewel, Fiona Apple, Courtney Love, and Shirley Manson of 'Garbage,' just to name a very select few.
In a few more nostalgic words…Lilith Fair for life.
But, there's one truly superb reason that proves JLP has the power to not just last a lifetime, but guide us through this insane lifetime we're currently and most definitely trying to live through.
That came on May 5th, 2018 when Jagged Little Pill:The Musical made its theatrical début at the American Repertory Theater in Cambridge, Massachusetts. With music by Morissette and Ballard, book by the ingenious Diablo Cody, and direction by Diane Paulus, the show has gone on to be a giant smash on the Broadway stages.
And why shouldn't it? Throughout the spectacular show, each Pill groove fits the lives of a seemingly perfect family who—underneath the glistening surface—are dealing with the perils of addiction, mental health, sexual assault, gender identity and so, so much more.
Bob Verini of Variety wrote, "Always engaging, often moving and even rousing, the show boasts dramatic interest and integrity on its own theatrical terms, courtesy of director Diane Paulus, first-time librettist Diablo Cody, and that peerless, soulful balladeer of the modern Western condition, Alanis Morissette."
Do we really need to say anymore? Jagged Little Pill was and will certainly be that record…you know the one. That record we can relate to, escape to, cry to, try to, ride to, thrive to….just be to. While…this world may be far from perfect, Alanis Morissette's still extraordinary life-defining third studio album is as close to perfection as we're ever going to get.
There's never been a better time to listen up and pay your most utmost respects…the amplified feels are all still there waiting for you and sound just as ready to strike….even twenty-five years later.
More about the Author: From singing to acting to DJ'ing to writing, 
serving this world the art of music and entertainment has been in 
Patrick DeMarco blood for as long as he can remember. 
He's been an avid entertainment writer for the City of Brotherly Love for a decade.