Culture
How Bryn Mawr Film Institute Is Keeping Indie Cinema Alive During COVID-19
|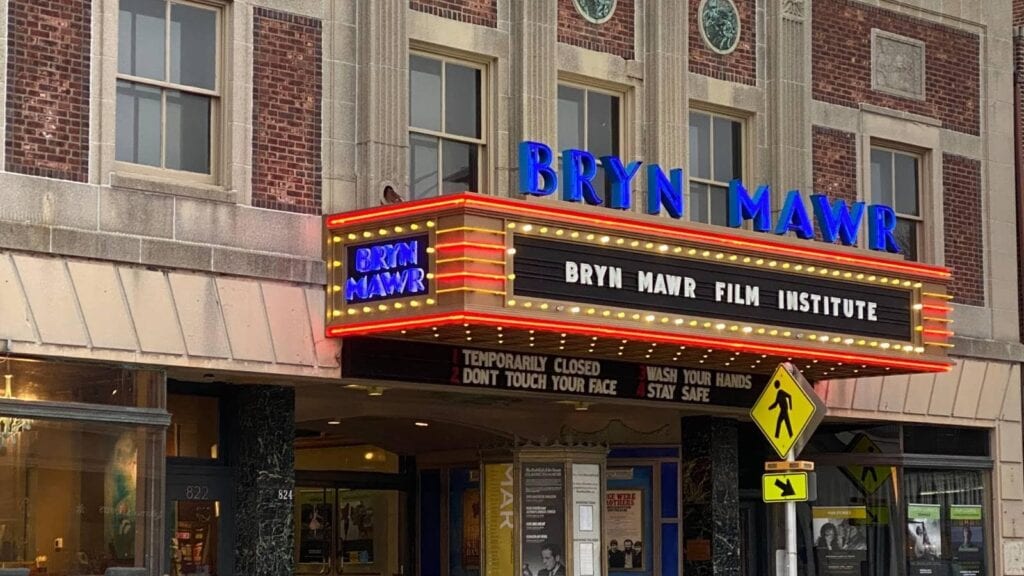 How Bryn Mawr Film Institute Is Keeping Indie Cinema Alive During COVID-19
Movie theaters, concert halls, and sports arenas are feeling the impact of COVID-19 social distancing measures. International shutdowns are resulting in long term effects on the industries and people behind live entertainment. One suburban Philadelphia organization, the Bryn Mawr Film Institute, is finding creative ways to remain as a hub for independent film during a time where munching on movie popcorn feels like a sorely-needed reverie.
When the pandemic forced the movie house on Lancaster Avenue to temporarily close its physical doors in March, the Bryn Mawr Film Institute went digital. The improvised online portal Theater 5 extends the organization's reach beyond its four big screens. Indie films, documentaries, classes, movie discussions, and the Family Feud-esque Reel Rumble are all available to entertain movie fans. Proceeds from the portal go to the organization while the facility is closed. Movie fans can also support Bryn Mawr Film Institute by donating online or purchasing memberships to the non-profit.
Jacob Mazer, Bryn Mawr Film Institute's Special Programming Manager, told The Philadelphia Globe, "Even during this time there are still good films out there. People are still interested in seeing good films. We're hoping to find ways to bring what we think are interesting, worthwhile films to our audience under the circumstances that we can."
One unexpected side effect of COVID-19 shutdowns is that some indie films normally buried by summer blockbusters are receiving online attention. Mazer noted that there are a number of movies currently on Theater 5 that are "particularly superb." Two of those movies are My Darling Vivian and Tommaso.The first isan intimate documentary on Johnny Cash's first wife, Vivian Liberto. The latter is a Willem DaFoe feature on a director as he attempts to recover from substance abuse. Mazer lauded DaFoe's Tommasao performance, saying that the veteran actor's turn is "outstanding" and that he is "one of the best out there."
Mazer was also excited about two recent arrivals on Theater 5. Ella Fitzgerald: Just One Of Those Things, is a documentary about the jazz legend that incorporates greater societal issues still in play today. The Last Tree is a drama about a Nigerian boy who realizes his African heritage as he comes of age in the U.K.
As sociopolitical events have continued to turn the world upside down over the last few months, the cinema at Theater 5 keeps its Main Line (and online) audience informed. Their site offers a guide on Confronting Racism And Injustice and a Pioneers Of Queer Cinema mini-pack. Each of the three films in the package were released between 1924 and 1933. One of the films, Victor and Victoria, served as inspiration for a 1982 Julie Andrews movie of the same name.
Created during the Weimar Republic Era of German filmmaking, Mazer commented that the time "…was a particularly fertile period for German cinema and a period, particularly in the artistic world [where] there was a lot of forward-thinking about issues that were previously, and would again be, taboo, including matters of sexual orientation or gender identity."
The Queer Cinema package reinforces the concept that movies are not just entertainment, but a vital cultural rescource. Being able to look back at flicks with roots at a timein history marked by transition demonstrates the value of maintaining a connection with film. As for Bryn Mawr's physical venue, Mazer said the Institute will remain closed until they are "Sure that they can adequately keep our patrons and staff safe." Theater 5 will continue to run for the time being, offering cinephiles the opportunity to indulge in their favorite medium during our own turbulent times.
About the Author: John Saeger is a music and film writer from Philadelphia. He has written the pop-culture blog Long After Dark, a site dedicated to the arts in the City of Brotherly Love and beyond, since 2017. Twitter Facebook Instagram