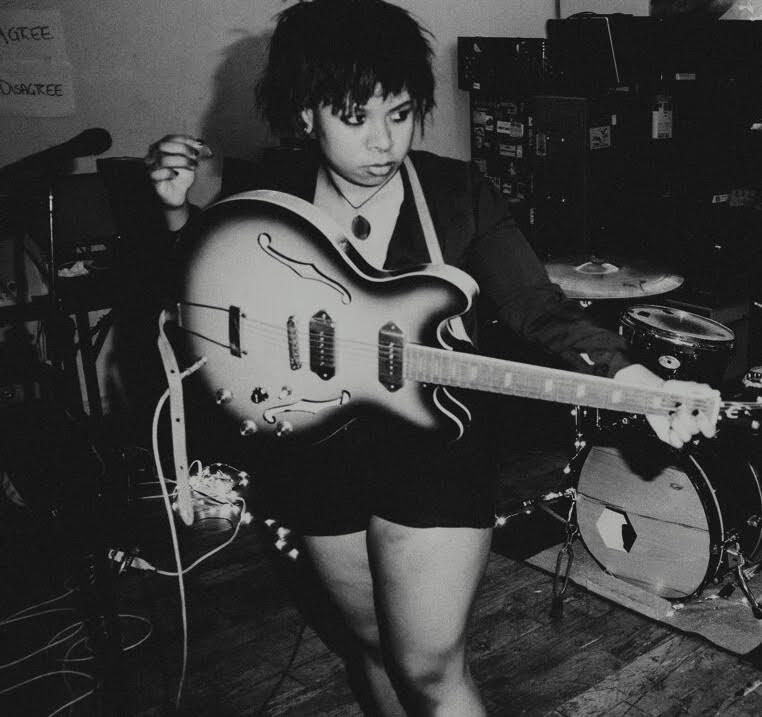 Woven In's Profess, out today via Grimalkin Records, is a profound darkwave experiment. It's DIY-sounding, revolution-techno music, the kind you listen to at the end of a disaster or dystopian film as the world crumbles. It's a futuristic space to freak out in, disco-dance to, or contemplate society in. Stringing together crooning vocals, fiery spoken words, and glitched samples, Profess is a record that tackles ever-present topics ranging from race to love with a new sound.
Opening track "Sad for the Season" begins with a singular, ricocheting synth note that vibrates. Dark electronic layers would slowly compound, as the vocals drift in. "Ordered me a new shoe / stepping out of the blue. / Looking for something / something that feels good," Mariah Fortune-Johnson sings. An alarm-like sound pierces through occasionally. It's as though we're transported to space, with our best shoes on, floating and grasping at the void.
The songwriting project of Baltimore-based multi-instrumentalist Mariah Fortune-Johnson, Woven In has been making music since 2013. Profess is the artist's ninth album, and it's comprised of eleven simmering tracks. The album isn't particularly long, but it holds fire — we feel like each song is saying its piece even when there are no words (as in "Interlude Sienna" and "O B D N Z"). "It's a social commentary on being a Black woman in America," Fortune says of the track "Upsetting," as her Bandcamp page describes love and kink as other themes permeating the record. Digital proceeds from the album will go toward Black Land Ownership and the Black Creatives Redistribution Fund.
"All I know is my side of the story / I can't tell no other story," a female voice, sampled, says repeatedly in "Til This Day Innocent," which combines goth electronica with words that delineate the experience of Black witness and testimony in the current judicial landscape. The sentences are repeated, sometimes cut short. Similarly, in "Body," the word "body" would be extracted from a male vocal sample saying, "and then act like I don't know nobody." The fragmented language creates a visceral, almost violent listening experience that makes us confront the narratives behind the words.
Standout track "Another Lover," on the other hand, mulls over love. Littered with a four-note, jewel-like synth riff, it simultaneously wonders "could you be the one I want / at the same time be what I need" and asks a lover to "send me something sexy / get me through my long work day," then it throws in a bait-and-switch as it asserts "I need another / need another lover." It's the quintessential anti-love song, full of modern cynicism and dissatisfaction. "I Don't Love You," an art rock track on the album also about (not)love, embraces a grungier, riot girl kind of aesthetics with a distorted guitar melody. It strays from the electronica-dominant landscape of Profess for an earthier sound. Fortune's reverberating voice sings both "I don't want you anymore" and "When I see you, you don't have to look the other way." It's remarkably poignant.
Irresistible and luring, Woven In pulls us into a swirl of underground sentiments and sounds. But at the end of the day, we're left wandering aimlessly in the mystical, almost zen-like synth tone of final track "Complex Body" and its punctuating electronic bass, a song wherein Fortune demands "Push that finger back in your hand" and declares, finally, "Black body you don't understand." A deeply personal sonic portrait of a Black woman's experience, Profess is a nuanced and complicated act of witnessing. We can't pretend to understand its entirety, but we can offer our ears.
Website
Facebook
Instagram
About the author: Kelly Liu is a senior at the University of Pennsylvania studying English. She discovered and fell in love with the local DIY scene after moving to Philadelphia three years ago. She also writes for WQHS Radio and hosts a weekly show on indie music.