Music
Comprador: Notes From "Live at MOTR Pub"
|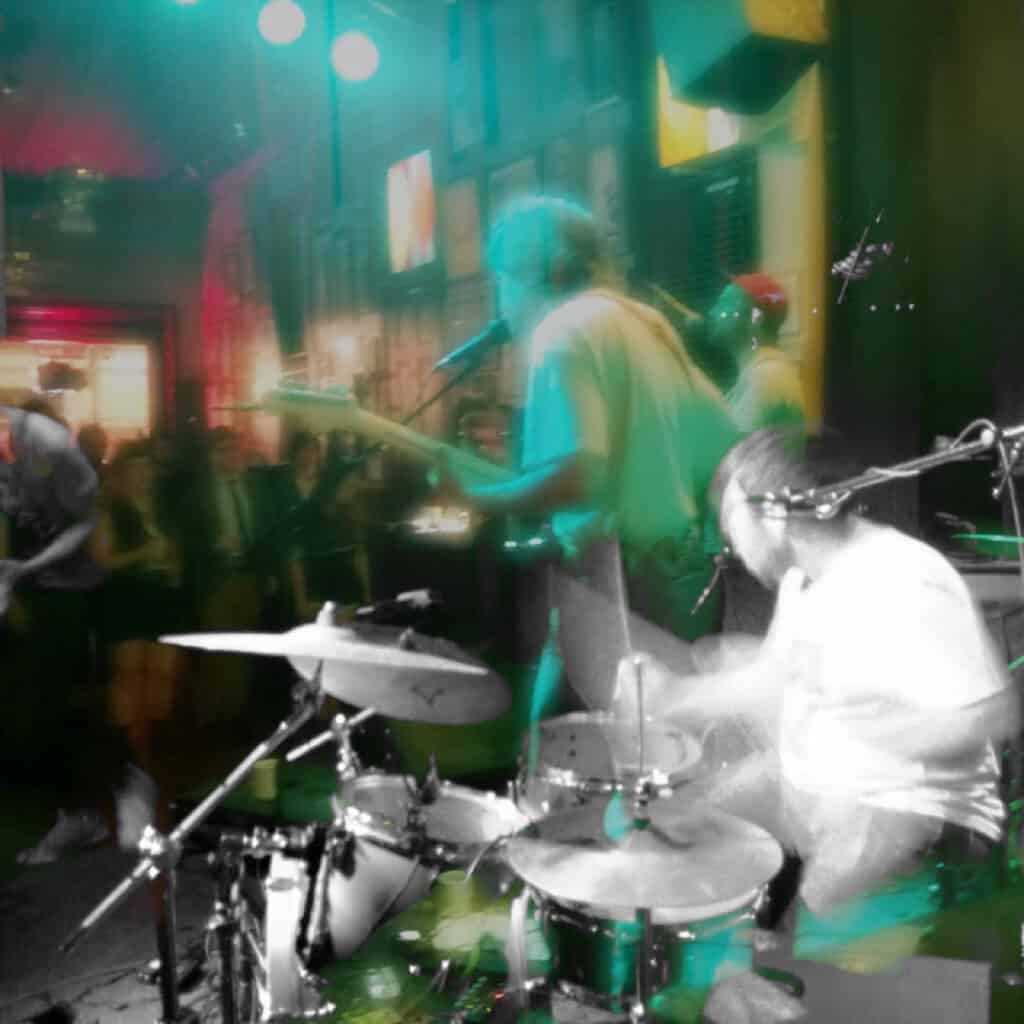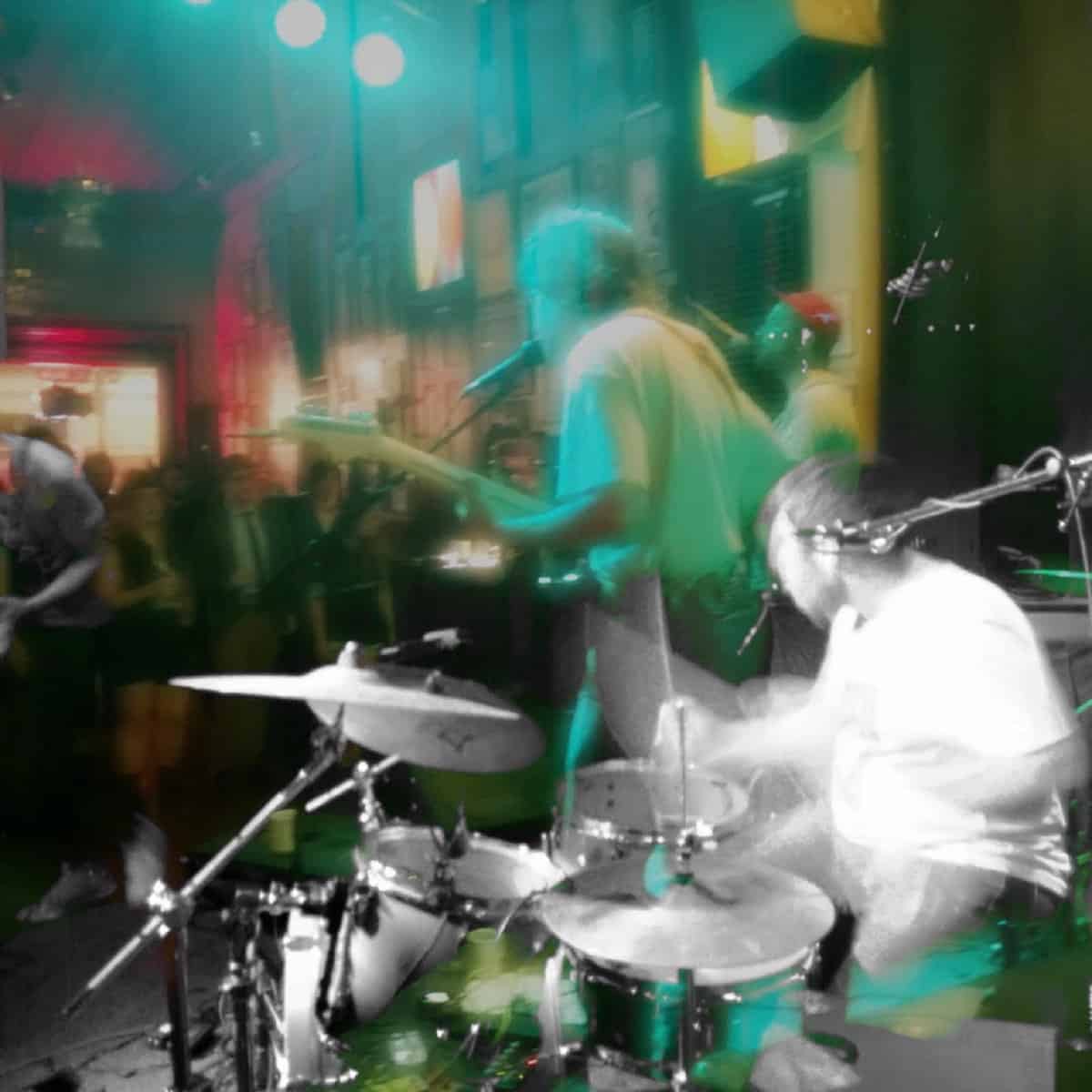 Friday, August 6th, Comprador will release a live album from June 2016 at MOTR Pub exclusive for BandCamp Friday. Charles D'Ardenne recalls the night song by song in this Phila Globe exclusive.
By Charles D'Ardenne
This live recording from June 2016 represents Comprador in one transitional phase among many. Before we consider the band in 2016, it might help to explain the years leading up to that point.
A couple of what would become the band's earliest songs manifested while I was still living in Arizona between 2011 and 2012. I moved to Cincinnati, Ohio in September 2012, but the project really began in 2013 after my living situation had somewhat stabilized. By February 2013 I had encountered the strange word "comprador" at increasing intervals; I remember specifically that it pops up in William Vollmann's first novel, You Bright and Risen Angels, but additional appearances in late 2012 and early 2013 convinced me it was a fitting band name.
Once I got ensconced in the Midwest, I cultivated a friendship with Aaron Collins, the singing drummer and primary songwriter for the Cincinnati quartet Shadowraptr. By the summer of 2013 I persuaded him to also drum and sing with me. That August, Aaron and I debuted Comprador live with Shadowraptr's guitarist Steve Patota on interim bass; the following month, Aaron and I began working on Voyeur, the first Comprador EP, while gigging with Shadowraptr's bassist Neal Humphrey. Shortly after we self-released the EP, Neal moved to the east coast, and we auditioned a few bassists before settling on Brent Olds for the live trio.
My collaboration with Aaron grew more intuitive and ambitious throughout 2014. The songs that would become our first LP-length record Pollinator developed in a way that was relatively painless. Unfortunately, I also struggled with the difference between Brent's playing and my ever-more complex visions for the songs. This led to me unilaterally firing him from the band not long after a show in October 2014 via a tense one-on-one meeting at Sidewinder coffee, followed by a night of boozing to assuage my self-loathing. Around this time, Aaron and I doubled our efforts to get Steve Patota back onboard. We succeeded and by November 2014 he became our fourth bassist after having served as our first (not counting my turns in the studio when Aaron and I functioned as a duo).
The three of us quickly completed instrumental recording at my friend Jon Coontz's project studio Audiodidact in Northside. By the end of that November, we finished vocal recording at Audiogrotto across the river in Northern Kentucky, with Michael Schenk engineering. We were hoping to get my and Jon's friend and sometimes bandmate Jon Delvaux to mix. Delays came in early 2015 after a couple of promising preliminary mixes. This was due to second-guessing, passing the mix responsibilities to Michael, becoming dissatisfied and then begging Jon Delvaux to complete the record. The record was finished by that summer in Jon's able hands, mastered by the late Dave Davis. Pollinator was released in July 2015 to some positive local attention.
Aaron, Steve, and I toured briefly in August and September 2015, which was a mixed bag: Bourbon and Branch in Philadelphia skimmed several hundred dollars off the draw; we played to basically nobody at Spirit in Pittsburgh when the audience fucked off after the opener; however, we performed for more enthused crowds in Manhattan and DC. When we returned to Cincinnati we had some songs in progress, but I felt confused on how to expand on our first experience with touring, which was soon compounded when Steve quit the band in October 2015. Even in hindsight, it's a challenge to say if he specifically left because of my lack of direction after returning from tour, or if he'd been ambivalent about the band from the outset and the tour breaking even hadn't persuaded him to commit additional time. I think Aaron and I both dreaded another months-long audition phase for a bassist, so I suggested the idea to our mixer Jon Delvaux and he gamely signed on in November 2015. This lineup of Aaron drumming and singing, Jon on bass and harmony vocals and me on guitar would be the last power-trio version of the band other than a couple of one-offs since 2019.
2016 ended up being an even more turbulent year for Comprador due to a handful of factors. I stopped drinking in December 2015 and began experiencing months of sobriety-induced writer's block. The issue wasn't so much that song ideas flowered when I was drunk – to the contrary, I don't recall ever practicing or playing a Comprador set while or after drinking. In spite of our own extracurricular substance abuse, Aaron and I had a little friction with Brent getting stoned during rehearsal while we were both temporarily abstaining. As far as I can self-diagnose the problem, when I stopped resetting my critical faculties by getting blackout drunk each weekend or holiday (or occasional work night), I was obliged to contend with them every waking hour, and as my self-critiquing strengthened I began shooting down song ideas based on imperfections I might have previously let slide or not even noticed. What little momentum we'd retained from the end of 2015 that wasn't already hobbled by Steve's departure from the frequently-vacated bassist slot now evaporated as the months of 2016 dragged on and I failed to greenlight any of the new trio's works in progress. At the same time I was making endless alterations to my own contributions, I also resisted adding the songs Aaron was offering to the band's oeuvre. In hindsight, maybe a little of my resistance was justified as I sensed he was saving his stronger compositions for his solo ensemble, but more often I was being overly critical which resulted in a disintegration of the songwriting chemistry that had carried us as a duo through the first three years of the band and likely accelerated his quitting in November of 2016.
The band's internal turmoil, counterintuitive as it may appear, resulted in perhaps the best live performances any of the various lineups delivered. Practices and aborted writing sessions became more excruciating as we got further into the year. Onstage, the anxieties about the band's future and the growing resentments between me and Aaron blossomed into aggressive, forceful, precise sets of the best songs from the first few years of the band and the few newer compositions that had met my increasingly selective requirements. Jon Delvaux was fundamentally more of a guitarist than bassist so his playing added an edge to the rhythm section. In turn, his sometimes hyperactive, cutting bass work pushed Aaron and me to elevate our live performances. In prior iterations of the band I had delved into poorly-conceived pedal experiments onstage and trying to recreate studio arrangements often too ambitious for our more limited live sound, but Jon's entrance on bass and harmony vocals meant the band could now legitimately kick ass live.
Despite our revitalized live trio, by spring 2016 I was considering dissolving the band. I remember being resentful of my failure to convert our modest touring credentials into any additional local clout; I felt Cincinnati was unfairly ignoring our recorded output and our live shows, and I was irritated that after coming up on three years we hadn't significantly grown our audience or charmed bigger local bookers or artists into working with us. Dan McCabe and Shadowraptr had been one another's sweethearts yet each time I approached him directly he unceremoniously shot me down. I decided to have a potential final show on my 27th birthday – June 11th, 2016. Considering middle fingers flipped at concertgoers I thought of Nirvana's last American shows of late 1993 and early 1994 with Bobcat Goldthwait in lieu of the standard opening band. Cincinnati artist Weven Stalls, who performed as Vampire Weekend At Bernie's, was locally notorious for confrontational sets that more than once ended in real world jail, so I persuaded him to open. We booked the show at MOTR on Main Street, and I enlisted Michael Schenk, our Audiogrotto engineer, to document the evening. I have no memories of how we selected the set list; we played three songs off Pollinator, three from our 2016 EP Patient (sans the ten-plus minute title track and the St. Vincent cover), a Beatles joke, a song that eventually ended up on my 2018 double album Downstream, a song Aaron released in a stripped-down version on his 2017 solo record Cloud Hug, and perhaps most notably, a seven-minute epic which Aaron and I eventually cannibalized for ideas for other songs, but which never ended up in this arrangement in any studio session and which I think we only ever played one other time (at a Southgate House Revival show in Kentucky the following night).
I believe our instrumentation was something like as follows: Aaron on his mustard yellow Tama kit, Pearl Chad Smith Signature snare, and most likely an SM58 for his vocals. Jon used my Stingray one-humbucker four-string bass through the gain setting on a CAE wah into a Little Mark head and 4×10" Avatar cab, probably also an SM58 on vocals. I think I borrowed Michael Schenk's SM7B for my vocals. From the photos I was able to find, it looks like I primarily used my American Stratocaster, though it's possible I switched it out with my Gibson SG for specific songs. Typically I'd use a Fender Vibrolux reissue but I think for this show and a few others around that summer I played through a modified Ampeg V4 previously owned by Greg Sage of the Wipers; a problem I encountered with the Ampeg is it's livelier and more responsive turned up but is punishingly loud, so I'd run the guitar into a compressor which would level out the peaks of the guitar signal and curtail the output so as not to destroy every eardrum in the room. I don't remember what I was using for gain; I had a Malekko Assmaster fuzz at the time but the drive sounds are too clean so I'm guessing it was either a modified Tube Screamer or possibly a Fuzzrocious Ram the Manparts. I had a passive Dunlop volume pedal between the compressor and the delay to cut off the guitar attack and get a bowed cello-ish sound which you can hear in "New York Knights," "Now a Fire," and "Lazarus."
Song titles (and releases in parentheses) appear below:
THE BRUXIST (Pollinator)
The delay guitar riff central to this song dates to 2012 when I was still in Arizona; the first arrangement was extremely complex and I buried it as a failed experiment, but Aaron and I ended up exhuming the part in 2014 and fleshed it out into one of our most successful collaborative songs. This is also one of the two Pollinator songs for which Steve wrote and recorded the bass part. The lyrics were partly derived from dancing at shows in a firetrap of a DIY venue with the ironically self-aware name Tinderbox – "These ruins we inflame," also partly about the phenomenon of mammals grinding their teeth in sleep as a result of stress – "Smiles will bear our scars, engraved in ruminations."
NEW YORK KNIGHTS (unreleased)
I have no memory of the source of the working title (could it be a sports team joke?) nor am I able to parse much of what I'm singing during the first half of the song. I believe I repurposed a few phrases ("Face your fears" "float on what you are not") for various songs on Downstream, plus a couple of the musical ideas, namely the 5/8 delayed guitar arpeggio that pops up in a couple of the songs on Downstream and the polyrhythmic 5/8 <-> 4/4 transition which ended up appearing in "All Debris."
KISS ON (Downstream)
I briefly drummed for a Cincinnati band named Mardou and I'd written this drum part for one of their songs. It floated around for a few years after they kicked me out. When Steve quit Comprador in 2015 it came back to me and I quickly completed the lyrics, along with other instrumental parts. The words are about my resentments toward the cutthroat nature of the local music scene. There's a phrase expressing my chagrin at hearing Steve sing better on a Lazy Heart release than he ever did on harmony vocals in Comprador. Basically it doesn't fit the lyrical conceit of Downstream at all and ended up there because it was ready at the time. The live version lacks the expanded introduction and I tweaked Aaron's drum parts a little when I recorded the song myself. I nicked the rhythm of the verse bass riff from James Williamson's "Kill City."
LE RÊVE (Pollinator)
A couple elements of this song also date to my time in Arizona (including the guitar-harmonics countermelody that starts popping up in the verses and closes out the song). When Neal was in Comprador, we briefly messed around with a faster version of the song that none of us were feeling. One of us half-jokingly suggested we try it slower with a surf beat mapped to the 7/8 time signature, which ended up being the perfect approach – the completed arrangement was there after one or two more run-throughs at the slower tempo. There are some lyrical allusions in here to 2666, an Australian exploitation film, Swans' "Song For a Warrior." I believe I dreamed one of the bridge melodies and managed to bring it into consciousness, one of the rare instances when I didn't forget it. I inevitably got sick of the second bridge (when the drums drop out) and excised it from live arrangements in 2017 and onward, after I had switched over to drums and vocals to compensate for Aaron's departure.
NOW A FIRE (Patient)
I have always felt that our Patient EP seems hesitant and unfocused. In ways we were still attached to the trio sound with Aaron and me as the core, which we had essentially already articulated to its fullest extent on Pollinator. We also started to take steps toward varying the instrumentation and songwriting approach, most successfully in the title track. The studio version of "Now a Fire" sounds awkward to me; I think Aaron and I would eventually embody this vibe better in our subsequent individual work. Instrumentally, the song was a step toward a tighter, less flashy and more direct arrangement than we'd generally tried in our prior work, but my melodic instincts and vocal chops fell short of what I was hoping to accomplish. This live version at MOTR is more self-assured and engaging than the studio release. I do hate how "perceived" sounds like "pussy" in the chorus, though, and now you have to hear it that way too.
LAZARUS (Patient)
Another step in a different direction from our Patient EP, I think this song was a better amalgam of Aaron's and my abilities than "Now a Fire" (which had a clearly separated Charlie section and Aaron section). Aaron wrote the melodies and basic progressions for "Lazarus" – I suggested the linear 9/8 drum part, and was certainly impressed when he perfectly integrated it with his vocal performance. I also contributed a couple of dissonant chords to the louder section and wrote the lyrics to the second verse. This might have been the last time Aaron tolerated my encroachments on his compositions, which I think ended up working on this song but got to be counterproductive to a greater degree before he exited the band. This recording is also a fun example of how well our darker and more elliptical compositions went over in a bar environment!
BIRTHDAY (The Beatles)
A vanishingly rare instance of onstage spontaneous humor before my petulance reasserted control.
FAILSAFE (Patient)
I think this composition benefited from the stripped-down power of the live trio after suffering in the studio from my dozens of guitar overdubs, and is another example of how we were trying to get away from standard verse / chorus song constructions. The lyrics, if I remember right, were from a time when I wanted to write a concept album about John Paul Getty III getting precognitive abilities from the 1981 substance-induced stroke that left him unable to speak. Good luck figuring that out.
ELISIONAL (Pollinator)
This is one of a few Pollinator songs I demoed without input from Aaron. I recorded a solo instrumental version of this song at the Ice Cream Factory with John Hoffman engineering that I brought to the band sometime in 2014. I think it speaks to how closely aligned our musical senses were for a few years that the solo compositions are generally indistinguishable from the songs we wrote collaboratively in Comprador.
BLINDISH (Cloud Hug)
I remember really disliking this song in 2016, which is way more indicative of my destabilized and over-critical attitude that year than the song's merits. Aaron eventually released a piano / acoustic guitar arrangement of the song on his 2017 album Cloud Hug, which presents a clearer picture of the song's melodies than our oblique take here. Reevaluating the song years later, I'm primarily struck by the dynamics of this version, which I think encompass this whole set. We were growing to be at odds as musicians and would soon barely be functional as a unit, but our disparate impulses were producing varied and intense performances when they still coexisted. I'm playing tension chords in the verse against Aaron's minor key pop melody and while not enough to derail the song I think it evokes unease in a way that suits the lost eyes in Aaron's lyrics. It's maybe unfortunate that once-fruitful collaborations have a tendency of ending on dark notes, but it's also maybe just wishful thinking to imagine they could end differently.
Listen to Live at MOTR Pub Here: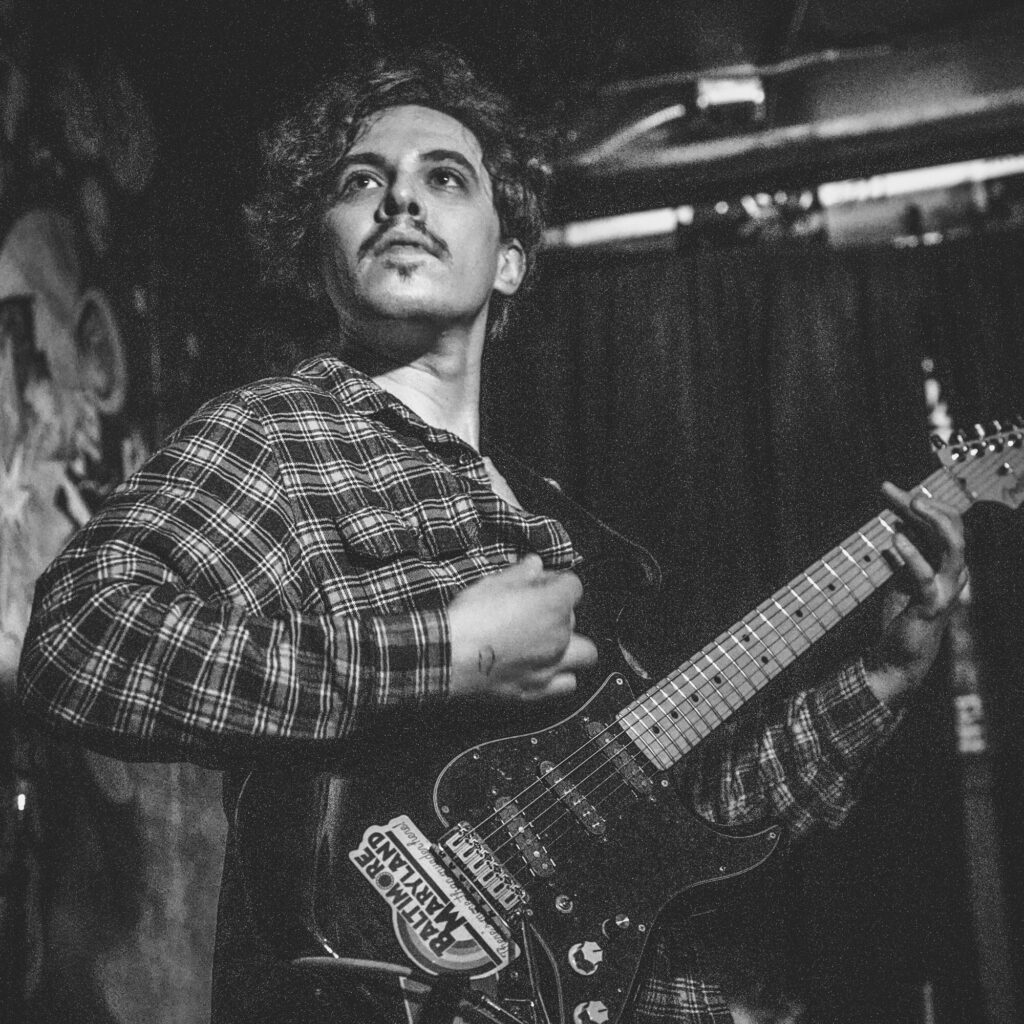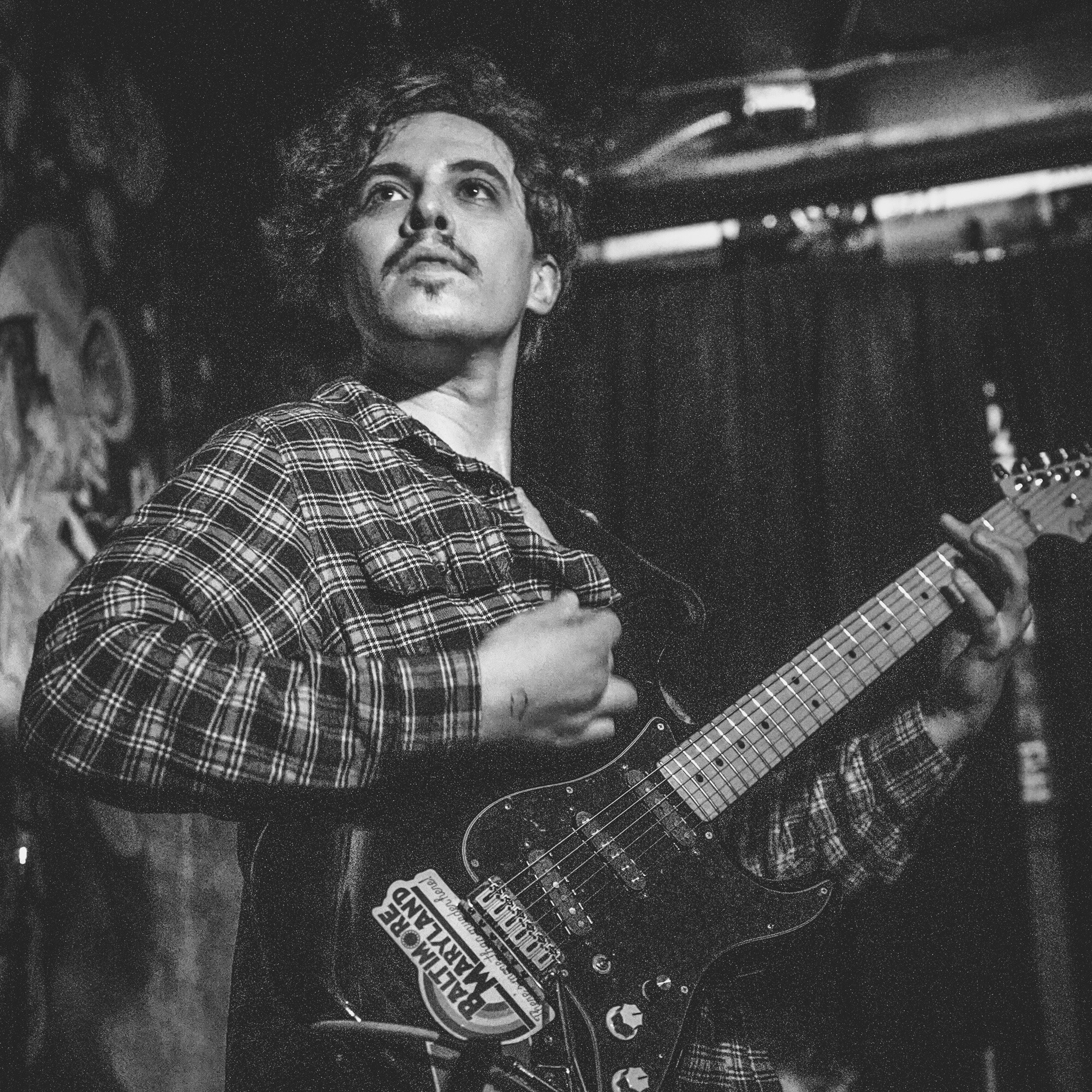 Learn more about Comprador Online:
 Facebook
 Instagram 
 Bandcamp