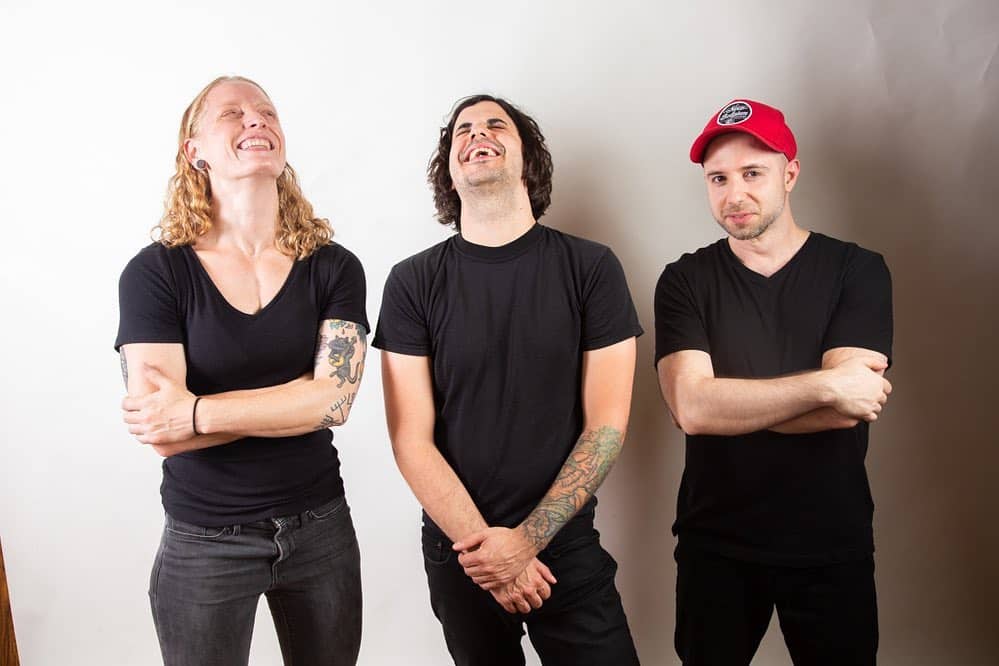 ---
Dispatch from Around the Globe – Summer Quarantine Edition
If you're one of those 90's kids still mourning the death of the golden era of rock music, you're just not looking in the right places. Red-blooded, alt-rock is alive and well, and Philadelphia's Alright Junior. The explosive, impulsive, and intense vocals of Jace Miller. The melodic creativity of Jamie Victor's bass and harmonies. The solid, viking-like drumming of Steph Brettman. An electric mixture of rock with passionately haunting lyrics, infectious songwriting and stunning energy. Alright Junior are set to release their forthcoming EP, Battle Scars Friday July 31st.
What's a favorite song of yours that reminds you of summertime?
Jace: Baby's Got Sauce by G. Love and Special Sauce.
Jamie: Summertime by DJ Jazzy Jeff & The Fresh Prince
Steph: "Dancing in the Moonlight" by King Harvest
We are always on the lookout for new TV shows and films to check out. What's one of your favorite shows and/or movies that you've watched over the past few months?
Jace: New Dave Chappelle Netflix Special "8:46".
Jamie: Fear City (TV show on Netflix about the NY Mafia)
Steph: The Magicians is a great TV series. Knives Out has probably been my favorite movie I've seen recently.
Your vacation plans probably got thwarted due to the global pandemic. Where had you hoped to travel to this summer? Where are you planning on doing some fun summer activities instead this year?
Jace: We were hoping to tour a bit this summer, which is a bummer, but health first in this current climate. Instead my outside activity looks to be like more walks with the pups near Penn Treaty Park by the water.
Jamie: Was planning on camping, still may go camping.
Steph: Planned/planning on going camping in the Delaware water gap with my girlfriend. We've done some day trips to some trails in Southern PA/Northern DE.
Can you recommend a local Black owned business that we should check out?
Jace: Harriett's Bookshop in Fishtown and Win Win Coffee Bar in Callowhill.
Steph: The Wing Kitchen in South Jersey has the best garlic parm wings!! Everything from there is superb. Vegetarian options, too 🙂
What's your favorite shore town?
Jace: I'm skipping the shore, heading to Puerto Rico on this one.
Jamie: Cape May, NJ.
Steph: Sea Isle City
Lots of people have been releasing music over quarantine. What's a favorite release of yours that has come out since March?
Jace: This lands right before March, but I've got to go with Fionna Apple "Fetch The Bolt Cutters". Been listening to Mike Shaw's "Kinder Things" Podcast.
Jamie: "Big Man" Demo by Fossils From The Future
Steph: Slophouse "Good Go Now" EP
What's your favorite summertime tradition?
Jace: Is relaxing, laughing with friends, and having a drink in your hand a tradition enough? Haha.
Jamie: BBQing.
Steph: BBQs and firepits
What's your favorite summertime treat?
Jace: Shout out to Weckerly's Ice Cream in Fishtown these days. Growing up as a kid in Trevose, going to Rita's Water Ice was it, though.
Jamie: Frozen grapes, preferably cotton candy grapes.
Steph: Fresh raspberries
You've probably sharpened your cooking skills since quarantine began. What's your favorite thing to make for a meal these days?
Jace: Everything and anything, I love to cook and this has been quite the opportunity in the kitchen. From Seafood dishes to Vegetarian/Vegan dishes, if I chose just one meal, I'd be betraying all the other meals that have further developed this palate. I'm also very indecisive, haha.
Jamie: Anything BBQ.Steph: Pizza or fried chicken
Best summer concert you've ever seen? What's your favorite venue to go to for a summertime show?
Jace: The best summer concert I've ever seen was Paul McCartney at Vet Stadium when I was little. For a favorite venue in the summer, I gotta say when festivals are happening across the river in the lawn, it is always a good vibe for the time of year.
Jamie: Rage Against The Machine with Wu Tang Clan. Mann Music Center (Only went there once to see Spoon and Arcade Fire but it was awesome)
Steph: Can't pick my favorite summer concert but my favorite venue definitely the Mann Center!
Favorite Philly bands right now?
Jace: Erin Fox, Resilient, Dear Forbidden, Fossils From The Future, Andorra, Flyermile
Jamie: Thunderbird Divine, Dear Forbidden, Secret Nudist Friends, Fossils From The Future
Steph: Slophouse, Varials, Resilient, At Best, Zymotic Flow
Favorite non-Philly bands right now?
Jace: Mark Lanegan, Mike Doughty, Local H, Queens of the Stone Age
Jamie: Reignwolf, Thee Oh Sees, Tame Impala, Dungen, Khruangbin
Steph: Xiuhtezcatl, The Acacia Strain, Belmont, blackbear
Favorite Summer Blockbuster(s)? Did you see this in the theater?
Jace: Tim Burton's first Batman in 1989. Yes, I walked out of that theater thinking I could be Michael Keaton as Batman in real life, I was zoned in. And wow, what a performance by Jack Nicholson. As a kid I was just mesmerized by that movie.
Jamie: Can't remember the last time I went to the movies, let alone in the summertime.
Steph: No clue, I don't even know the last movie I've seen in theaters.
Current summer reading? All time favorite summer read?
Jace: I'm taking classes online with UMass, so all my reading time has gone there. Favorite summer reading of all time goes to Aldous Huxley's "The Doors of Perception" and "Heaven and Hell".
Jamie: The Spectrum by Justin Bamforth
Steph: "War God" by Graham Hancock and "I'll Be Gone in the Dark" by Michelle McNamara. All time favorite "The Count of Monte Cristo" by Alexandre Dumas
What's your favorite summertime jawn?

Jace: There's nothing like riding your bike or skateboarding through Philly on a gorgeous summer day.
Jamie: Air conditioning.

Steph: Flower gardens!
---
---
Find Alright Junior Online Here:
Facebook
Instagram 
Spotify