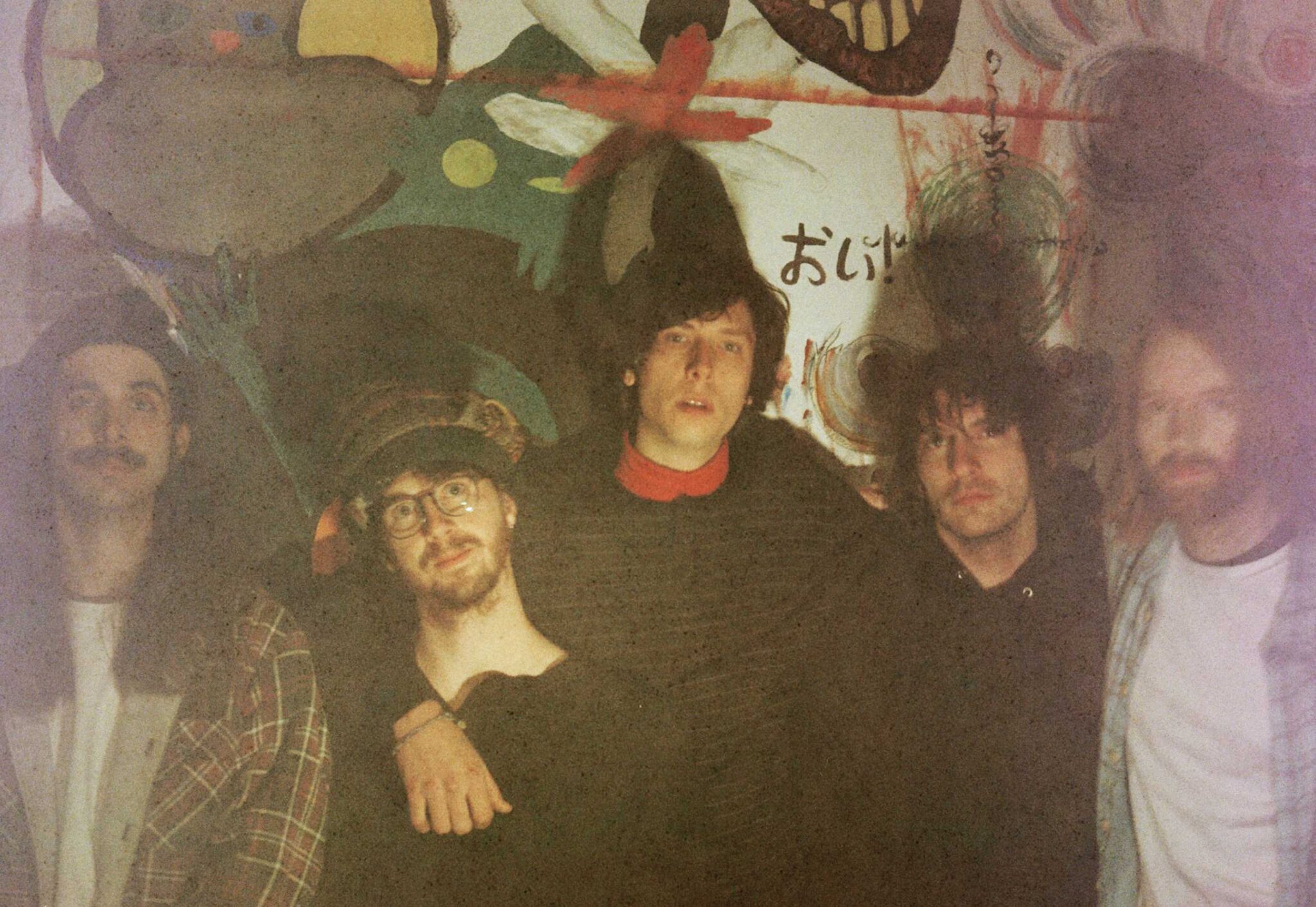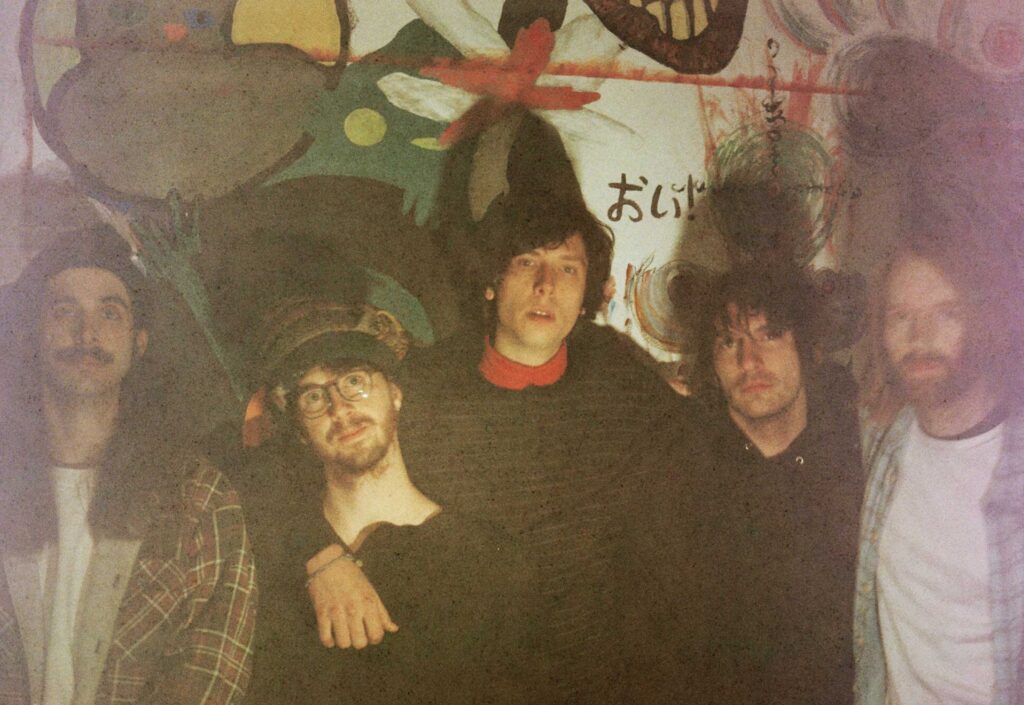 By Sean Fennell
Picture an album cover, a palette of black and white. On it, a hand drawn picture of Michaelangelo's Statue of David, that iconic devil-may-care posture, sinewy and lean. He's a symbol of invincibility, over five-hundred years have passed across his distant stare, except not in this version. Here, within the cover's shaded black border, David is exploding, his marble core flying to the edges of the scene. Now erase that picture in your head, scrap it, throw it away. That's just what Keith Abrams, frontman and songwriter for the Philly band Pine Barons, decided he had to do, even after modelling his new album on this very image and it's former title Human Clocks.
It's a powerful symbol; antiquity destroyed, tradition obliterated, the "human clock" edging toward zero, but if it doesn't make for the best possible album, then who really gives a damn about all that. Vision can be a signifier of artistic greatness, the mythological ability to follow a muse to something transcendent but, just as often, it can be a stubborn crutch. During our recent phone conversation Abrams described to me the oppressive feeling this singular image started to represent, himself as boxed in as David within that black border. It wasn't till bandmate Brad Pulley verbalized this for him that he recognized his own tunnel vision. "It was exactly what I needed to hear because it really didn't need to be that, it could have been anything, it could be something new, something very colorful," says Abrams. What resulted is Mirage On The Meadow, the bands most impressive output to date.
This story perfectly encapsulates Abrams as an artist. Though tight-lipped and reserved he's a person with a clear, considered artistic vision. You get a sense that music, art, sound and ideas are a way of life, an idea worth unpacking everyday that is never given short-shrift. More impressive, though, is his willingness to invite others into this world. It's important to Abrams to give as much as he takes, whether when he's producing work for countless bands or collaborating with his buddies from The Districts. Insularity stunts growth and following a muse doesn't have to be a lonely journey, both lessons that have influenced the work Abrams and Pine Barons are able to make today.
This kind of community was difficult to establish early on, as Abrams' hometown Shamong Township was not exactly a budding music scene. It wasn't long till the band moved to Philly and started kicking around at small venues throughout the city, eventually releasing their debut self-titled EP in 2013, a seven-song collection which is not bad, per say, but much easier to lose in a wash of indie rock than the sound they eventually established. It wasn't till after the release of 2017's Acchin Book, an absorbing collection of cutting, often bombastic indie rock shot through with Abrams theatrical vocals and mystical songwriting, that they started to find something definitive and unique.
It's fascinating to look at how Pine Barons' sound evolved throughout their discography, especially when compared to what is effectively their brother band, The Districts. The bands met on their first ever tour, a bit of fortuitous scheduling that has led to a lifetime of collaboration and friendship. "We just really hit it off and became really good friends," said Abrams. "From then on, I have basically been working with them on their records one way or another."
Though The Districts have a much larger following in Philly and beyond, their collaboration with Abrams feels essential to the band's growth. Though Abrams has worked with The Districts in some capacity for awhile, it was with 2017's Popular Manipulations, when he served as engineer and part-time producer, that his imprint started to become more apparent. Where The Districts' prior records felt grounded in bluesy, barroom roots-rock, Popular Manipulations was far less tethered, a sweeping, scale-tipping brand of indie-rock the band hadn't experimented with before. Districts' frontman Rob Grote even began to sound more like Abrams, trading the gnarled growl of a song like "Young Blood" for the gleaming grandiosity of Popular Manipulations opener "If Before I Wake", which sounds quite a bit like something off The Acchin Book.
"I think while in the studio Keith has helped reel us in if we've been drowning in indecision," said The District's drummer Braden Lawrence, who calls Abrams a "fifth member" of The Districts. "He's had a lot of ideas that have helped expand our music's palette." Lawrence grew such a comfortable relationship with Abrams, both working and personal, that there was no one else he could have imagined working with on his own solo project, Haggest Mctaggert. "We both love trying to create a lot of different interesting layers within a song," Lawrence says of their most recent collaboration, this years Songs Of Abstraction, a record that stretches the more experimental aspects of both Pine Barons and The Districts to their logical endpoint, a kind of washed-out, layered ephemera that somehow maintains a hooky, welcoming charm. "I think we both give each other space to do our things and follow random ideas and see where they end up."
For The Districts' most recent record You Know I'm Not Going Anywhere, released earlier this year, Abrams joined the band in upstate New York, taking over production duties completely in addition to contributing vocals, piano, and a bit of percussion. The effect is a record even less rooted in traditional guitar-based rock, shimmery and ethereal, unafraid to branch out further and further from their original sound. It's impossible to tell how much direct impact Abrams had on the songwriting but considering his and Grote's friendship and the comfort the two have working together in the studio, it's hard to imagine The Districts making this record without his input.
But, of course, inspiration is a two way street. "Working with other people teaches me things," says Abrams of his time with not only The Districts and Haggert Mctaggert but bands like Boston post-punkers Vundabar. "I just try to sponge up ideas by working with other people and put them into my projects." The most important thing, Abrams tells me, is to remember there is no such thing as a bad idea and that, at the end of the day, art is a subjective medium. There is a palpable pride in his voice as he acknowledges his greatest skill as a collaborator is his ability to tap into the wavelength of whoever he is recording, finding what works best for them and forgoing any ego. "Keith is a very empathetic person," says Lawrence. "He knows how to work with people thoughtfully in the studio."
You can see how all this effort to establish artistic openness would eventually lead Abrams to find the best version of his own work, a feat he's accomplished with Mirage On The Meadow (out now via Grind Select), a ten-song kaleidoscope of color and sound, cinematic and sweeping but focused, not just a vision but a cohesive reality. It's an album that isn't so much reinvention as expansion, continuing to build on what made Pine Barons stick out from the indie-rock crowd in the first place. Abram's credits this change, as well as his own growth as a songwriter, for what he sees as a more simplified, straightforward sound. "I wanted everything to make sense with each other," he tells me. "Not having so many parts layered on top of each and things weaving in and out." A big part of that was Abrams taking full control of all songwriting, production and what he calls, "sound vision". As he tells it, this was simply the natural progression of the band, the rest of Pine Barons happy to follow him as his vision continued to form.
Of course, simplification is relative and cohesion does not mean minimalism. Mirage On The Meadow is a record of countless moving parts, each song built on sliding melody and wall-of-sound production, where the sound of rushing water and range-shifting vocal deliveries are never out of place. Take "Sputter", a downbeat, airy song that Abrams calls a, "calm in the storm, a moment of self-reflection." But introspective, coffee-shop ballad this is not. From the get "Sputter" displays just the "sound vision" Abrams talks about, taking what could be something simple and adding otherworldly flourishes that whirl beneath the surface. "I have all these little cassettes that have old conversations with friends and nature sounds and it's kind of broken so it wobbles a bit," explained Abrams of the song's more mysterious sonic qualities. "That cassette player is playing a recording through the first half of the song of my friend playing a song to a room of friends. It's not even in the key of the song but it really works."
Would these kinds of moments have fit Human Clocks, with that monochrom Michaelangelo? Maybe but surely something key would have been missing. What we ended up with was something far more colorful, an album with a cover of greens, yellows, and oranges, a natural scene where straining trees and twisting underbrush reach toward a faded, lush marshland, naturalism with just a hint of psychedelic disorder. Abrams may have begun the record with dark loneliness on his mind, but what resulted was much more vibrant.
"I don't think I was in the best place in my head much of the time during this record," Abrams admits. This might have added to its darker beginnings but even he admits Mirage On The Meadow's best song is very much an exception. "It came from a different time," Abrams says of "Colette", a headlong single highlighted by its fluttering melotron, driving beat, and warped synthesizers. "I think it was ultimately the missing link, a bridge to something new and fresh for me," says Abrams.
So many things go into an album, even when an artist would prefer you think of a record as their precious, singular vision. Mirage On The Meadow is the first record Abrams wrote, performed, produced and engineered, an impressive feat, but again and again he is quick to deflect, give credit where credit is due and acknowledge the precariousness of even the most successful works of art. The truth is nothing is created in a vacuum but if you are open enough to accept inspiration in all its forms, you can create something vibrant.
Listen to Pine Barons' Mirage on the Meadow below:
About the author: Sean Fennell is a freelancer based out of Philly. Born from college radio and trained in the Philly music scene, he has had an interest in both the art and business of independent music with a keen eye on how they intersect and diverge. When he's not writing, he's trying a new recipe or having his guts ripped out by the Philadelphia 76ers.